Home is Where the Barn is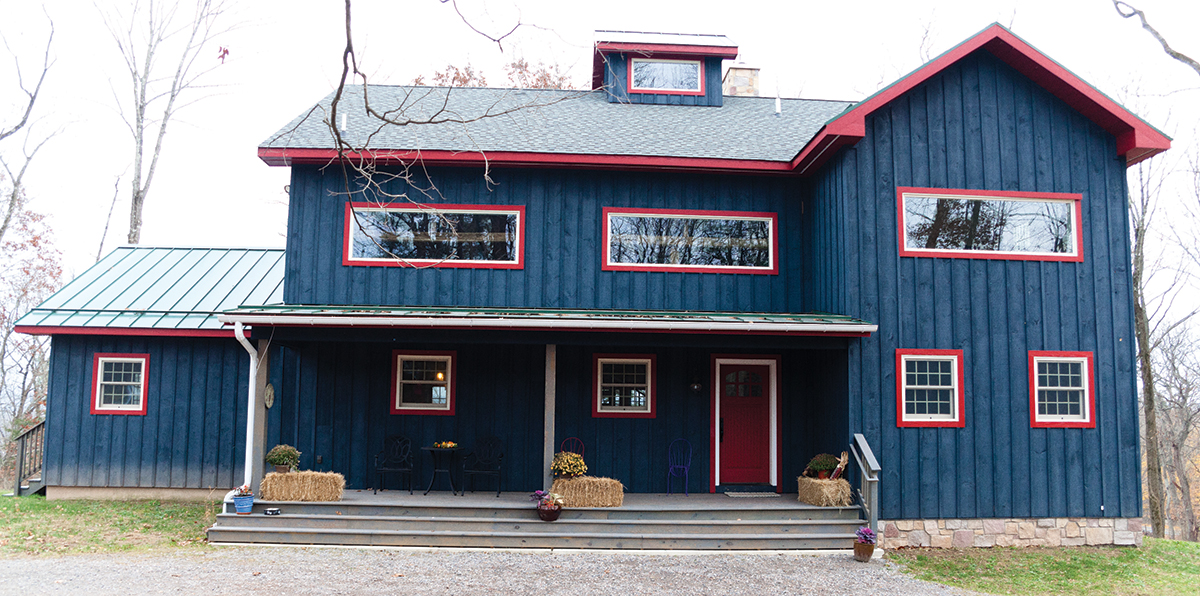 HOME DESIGN
A retrofitted bank barn in Solebury illustrates that intimacy and wide-open spaces can coexist quite well, thank you.
By Scott Edwards · Photography by Josh DeHonney
Kristin Duthie and Scott Minnucci moved into their spanking-new home in January 2015. And then again, this time for real, a few months later. Such is the real-life experience of filming an unscripted home design show.
The construction of their retrofitted barn home was featured on "Barn Hunters," the host of which, Sean Tracy, is the owner of the Bedminster-based Bucks County TimberCraft and an old friend of Minnucci's. They worked together on a few prior occasions, Minnucci drafting renderings for Tracy's clients, but the familiarity of their relationship couldn't smooth over every awkward bend in what verged, constantly, on becoming an unsustainable pace.
On one occasion, the producers suggested they build a man cave, because it's what their audience wanted to see. "So I was like, 'I'm going to do it, but not right now,' " Minnucci says. But they pressed, so he, perhaps as much out of fatigue as accommodation, relented. What they ended up with, Minnucci is telling me as we descend a spiral staircase into the basement—and suddenly we're upon it. "We call it The Implement Wall," he says.
Duthie and Minnucci have adorned their home with tasteful, relatively conservative elements. That said, they're not beyond making a statement. The Implement Wall, however, is more of a threat, or at least it would be in almost any other home. A floor-to-ceiling installation of rusted (and some free-swinging) tools, it borders one side of their bar, which also fits within the unique context: once mighty barn-turned artifact-turned modern home.
They didn't have to make it themselves, at least. When Duthie and Minnucci think back now on the filming, the moments that still sit within reach are the late nights—midnight, 1 a.m.— when they were staining and painting, staining and painting. For much of it, it was just the two of them. They managed to lure their most compassionate (and thirsty) family and friends over on the weekends. Toward the end, they started to wonder, How much beer does it take to build a house?
Come January, the home was hardly finished, but the producers needed their gratifying conclusion. So they filled it with furniture, filmed, emptied it just as quickly and finally left Duthie and Minnucci in peace.
A most impressive hay loft

Old Bunker Hill, as Duthie and Minnucci named their home after the Revolutionary War holdout in Solebury Township atop which it sits, is constantly shifting shapes before your eyes. Turning off of Phillips Mill Road, just north of New Hope, onto a gravel driveway that meanders through dense woods, the home presents itself as a majestic estate embedded in a cliff, only to shrink down to a modest suburban home once you land at its entrance. A few steps inside the front door, the tongue-and-groove ceiling vaults 24 feet up, and the walls—hand-plastered and tinted to jibe with the dark beams—reach for it, like outstretched arms. Yet we settle into a corner that's been cordoned off as a living room and it immediately feels intimate. And that experience repeats itself all over the home.
Occasionally, you find yourself in a position where it's impossible to not appreciate the largeness of the perspective—the second-floor landing, the back porch that stretches across most of the rear of the home and looks down on a steep, grassy slope—but far more often, you're wrapped in a warmth that's missing from homes with 10 times as many walls and accessories. Duthie and Minnucci moved here from Village 2, a former resort colony in New Hope where the townhomes are notoriously cramped. Still, they barely added any furniture in the transition.
They spent a year shopping for fixer-uppers or property when they came upon this lot, just separated from the home at the base of the hill. They're prolific DIY-ers, so they were open to starting from scratch. Minnucci already designed and built a timber-frame home in Bedminster. They had a friend who bought three-bay hay barn back then but never did anything with it. The natural slope of the land suited the barn's bank style. Mason John Lanzetta recreated an aged stone wall that mimics a portion of the livestock pen that resided behind the barn's original iteration and a walk-out basement was built in the area where the animals were once fed.
Tracy and his crew erected the 900-square foot barn—atypical because they generally run rectangular, not square—in a few days. The rest of the house, which Minnucci designed himself, took about a year to complete. He added extensions to the north and south sides, so the barn comprises the home's core, which makes the large cupola its literal center. The kitchen, a dining area and a living room fill the main floor, along with an iron-and-cable spiral staircase, the home's only real modern fixture, which winds up to a landing that provides access to a guest bedroom and bathroom and an office. Beyond the kitchen, on the other side of the barn, there's a walk-in pantry, a powder room, a mudroom and the home's only hallway.
"I like a lot of flow in a house," Minnucci says. "I don't like to interrupt it with a lot of hallways and stairways."
Any idea how many pieces there are to the barn, I ask. "We didn't even put them all in," Minnucci says. "You'll see a lot of open holes where there were probably a lot more cross-braces." I visually measure the vertical beam right in front of me and then peer into one of those holes, and just like that, the barn expands and contracts.
Simple luxuries
Strangely, the space that feels the most expansive in the home is one of the few rooms with four walls. A dressing room segues from the main-floor master bedroom to the en suite bathroom, where a massive soaking tub anchors a far corner. There's also a sizable shower with a stream-bed floor, which Duthie and Minnucci installed themselves. Actually, they laid all of the tile in here. The dual-sink vanity was custom-crafted by Blooming Glen furniture designer Roger S. Wright, as was the kitchen cabinetry and much of the furniture throughout the home. For now, a framed, rectangular opening stretches the length of the vanity near the ceiling. I think it's by design—maintaining the flow—until Minnucci says that it'll eventually be filled with a hand-blown stained glass window that's being made by David Duthie, who operates a nearby studio called Bucks County Hot Glass.
They installed a window in the shower because Minnucci really wanted an outdoor shower, and they're still going to add one, but the window's a satisfying compromise for the meantime. It is the only compromise, though. The Implement Wall aside, the home's few obvious indulgences—the spa-like bathroom, the commercial-grade cooking range, the obscenely engineered kitchen faucet—can all be credited as corrections to their former arrangement, which afforded them one full bathroom and a galley kitchen. If they want to soak and cook with room to breathe, it's understandable.
What hooks my attention, however, is a network of old-looking, plantation-style fans that runs across the barn ceiling, connected by belts to an exposed motor on the wall. They were made by Woolen Mill Fan Company, in York County. They seem like such a seamless fit, as do so many of the other details that almost go unnoticed. The flooring is quarter-sawed, reclaimed, re-milled pine, the grain of which is noticeably tighter than what you'll find in today's pine boards. And in the kitchen, they've hung an old wooden ladder over the island and strung a few pendant lights from it. Turns out, their electrician, Fred Vocke, gave it to them. I expected it to be part of the barn. Nah, Minnucci says. They saw a similar look somewhere else and liked it.
"The neat thing with the barn is you can't really mess it up," he says. "You can do just about anything and get away with it, like throw a ladder up like this."
The heart wants what it wants
Even if they hadn't endured the onslaught of decisions that come with crafting a home from the
foundation on up under the ever-present surveillance of a camera crew, Duthie and Minnucci would be perfectly settled now. A space of their own design, nestled in the woods, all to themselves. Thing is, though, they're not a couple who ever really wanted it all to themselves.
You must not miss Village 2, I suggest. "Well, we do, because we had such great neighbors," Duthie says. "And I, particularly, had lived there for a long time. And Maggie [their dog] grew up there, three, four walks a day, barking at all her friends going by. So I miss that part of it. Up here, it's so nice and private. We have space, and she doesn't have to be on a leash. But you also miss, when you're snowed in, I used to bake cookies all day and deliver them. Now I bake cookies and eat them."
That's not to imply that they have any regrets or don't fully appreciate every grain of wood. It's just to say that there are only so many things you can account for, the home being more than a simple structure where we seek shelter.
Save