Required Reading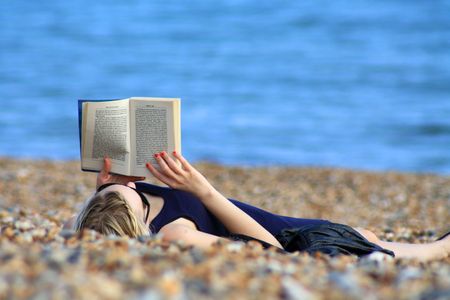 BOOKS
5 new-ish books you need to make sure to pack this summer.
Now that you've got some downtime in front of you—unplugged, ideally—consider catching up on your reading. There won't be a test at the end of the summer, but you will be better off for it. It was a strong year for literature, especially fiction. Its most popular author returned after five long years, as did his fastest-rising challenger. The uncanny originality of their imagination is on full display. But, exotic as their stories may be, it's the subtle intimacy of their writing that'll envelop you and make you forget where you are. Which is the point of vacation, is it not? —Scott Edwards
Purity |  Jonathan Franzen
Sprawling as it is meticulously detailed, Purity is, above all else, a coming-of-age story. Twentysomething Pip Tyler's burdened with a dead-end job, $130,000 in student loans and a paranoid mother who's clearly hiding something. When her patience finally begins to strain, Pip heads to South America to work for a sort of WikiLeaks organization in the hopes of learning what her mother won't tell her. Intricately layered as his last novel, Purity never really comes together in the deeply satisfying ways that Freedom does. But the characters, each so conflicted and vulnerable, are what'll compel you to keep reading. Their maturations are where the best parts of the story lie anyway.
Fortune Smiles: Stories |  Adam Johnson
Johnson's collection of six short stories won the 2015 National Book Award for fiction. Like Franzen, Johnson's narratives are character-driven. Also like Franzen, the nuance of their depictions forges instant, authentic compassion. In "Interesting Facts," Johnson crafts an unflinchingly honest portrait of a cancer patient, made all the more remarkable by the fact that she's a woman, with breast cancer, and a wife and a mother of three young children. She sizes up every woman she comes across by the size and shape of her breasts. And she tries to isolate herself as she can, all while she fears drifting out of reach of her family, thinking of them growing up and moving on.
So You've Been Publicly Shamed |  Jon Ronson
Ronson's made a career out of disarming the most feared among us, the extremists, the pyschopaths, the American military. Here, he turns the mirror on himself and us. He tracks down several infamous figures who misstepped on social media and were swiftly shamed into oblivion. It felt like the democratization of justice, but once Ronson starts revealing their shattered lives, it looks more like an angry mob. From there, he tries to get to the root of our need to shame. It may be manifesting now in the most modern of acts, but its history runs deep. Not surprisingly, the ability to do it immediately and anonymously, seems to only be making us, including Ronson himself, he realizes, less tolerable.
Fates and Furies | Lauren Groff
It's been a long time since I considered breaking it off with a novel, but I considered it often with this one. The characters—all of them; not just the main ones—regress from unaffected to pretentious. But a funny thing happens when they scrape bottom midway through. The wallflower begins her slow, steady ascent. The voice shifts to hers, and the tone follows suit. Everyone is revealed, including her. But the more unflattering the light, the more inspiring she becomes. She's a survivor, and with each new revelation that comes forth about her life, about their life, we realize the dramatic ways that perspective can distort reality.
NW |  Zadie Smith
Smith's best-known for her 2000 debut novel, White Teeth. But I got to NW, her most recent book, first, and fell in love with her there. The true measure of an author for me is the dialogue. Does it maintain the narrative's rhythm? Is it realistic? Some of the most revered books are ruined for me because of their stilted exchanges. No one before or since I came across Smith writes dialogue as well as she does. And in NW, it not only facilitates the story, which unfolds in the London neighborhood it's named after, it drives it. Personalities and, eventually, motivations come together in short bursts of slang. You know, like life. With her next novel, Swing Time, due to publish in November, NW's the perfect gateway to get hooked on one of the most human storytellers of our time.