What We're Drinking this Fall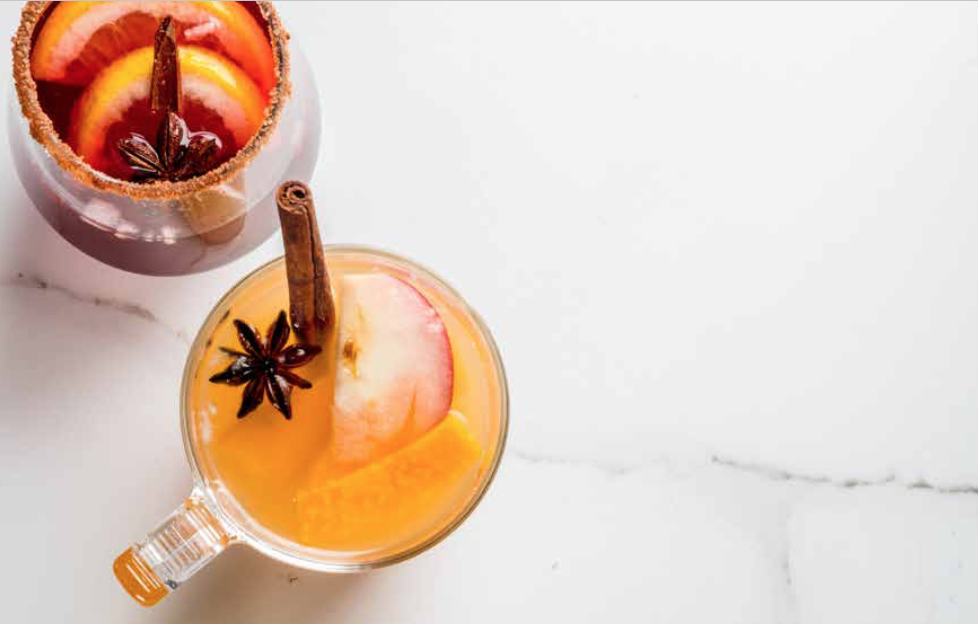 One of the best parts about fall, besides the perfect temperature and great fashion trends, are all the fall inspired drinks. We're sure you're already enjoying an early pumpkin spiced latte or hot apple sider on the cooler mornings, but we're here to talk about the drinks that will really warm your soul as the days grow colder.
Home + Table sat down with some of Easton's best mixologists to see what they are planning to pour in the coming months and gather some opinions of optimal supplies to store in your liquor cabinet this autumn.
The first stop was Pearly Baker's, a bar and restaurant housed in a building that dates back to 1869 and original home to Easton's YMCA. It's possible it was named after Purley Baker (a major player in pro-prohibition movements in the early 1900s). One of Pearly's bartenders, Melissa Vazquez, introduced an array of important fall spices and herbs like cinnamon, star anise, cardamom and allspice before setting to work to craft a Pumpkin Spice Martini. She used a base of Godiva White Chocolate Liqueur, Licor 43, Pinnacle Vanilla Vodka and a small spoonful of pumpkin puree. It's a drink that's shaken and then poured smoothly into a martini glass rimmed with cinnamon and sugar. Garnished with a simple cinnamon stick, this elegant cocktail taste even better than it looks.
Next on the docket was a Harvest Moscow Mule that included Tito's Vodka, Autumn Spiced Simple Syrup, a splash of apple cider, topped with Crabbie's Ginger Beer and garnished with a cinnamon stick and lemon twist. Melissa believes that a good vodka like Kettle One or Tito's is a great choice to have in your cabinet year round.Vodka, she said is"so versatile and can be flavored or infused in any number of ways." Her resulting drinks were a delicious introduction to the nuances of autumn spices and a warm up before a short walk down the street to 3rd and Ferry Fish Market.
A fish market for a fall cocktail? Yes. In fact, if you haven't been to 3rd and Ferry you're undoubtedly missing out on some of the best cocktails and the freshest seafood selections in Eastern Pennsylvania. Head bartender, Danya Kinsman, created seemly complicated drinks that she assured wouldn't be out of reach for those at home who want to get a little crafty in the kitchen. Her Whiskey Smash was comprised of Jack Daniels, lavender simple syrup and muddled orange. The lavender simple syrup may seem like a hang up to some but if you want to make your own simple syrups you can lean on the fact that simple syrup is true to its name. It's a mix of equal parts water and sugar reduced down and then flavor ingredients added which can be anything from oranges to rose petals to marsh- mallows (yes, really).
You can make simple syrup infusions with just about any of your summer herbs and carry them through your fall and winter drinks.
A theme that seems to ring throughout these meetings is the use of herbs and spices. Danya assured that for any fall cocktails an essential ingredient is the herbs you put in them,"Try your herb garden for some ideas. Thyme and honey, basil and orange, mint and orange, lavender and citrus of any kind work well and are great flavor combinations." You can make simple syrup infusions with just about any of your summer herbs and carry them through your fall and winter drinks.
Danya also introduced a Autumn Old Fashion that used baked apple syrup that was created by another of 3rd and Ferry's mixologist Robin Capner. Robin tried syrup creation a few times before she was satis ed. It's combined with Amador Whiskey, cranberry bitters and topped with Breckenridge Autumn Ale and truly tastes like something you would drink on a crisp fall morning.
Fresh fruit and herbs are important while making drinks.
Last stop on the cocktail train was Two Rivers Brewing, which was once the home of the historic Mount Vernon Hotel, where bartend- er Naomi Jensen excitedly mixed up a Hot Toddy. It's a personal favorite of hers and an acclaimed "cold curer" that she uses every winter when the sniffles arrive. It's an easy to make and delicious hot drink that includes brandy, Creme de Cassis, fresh lemon slices, honey and hot water. You might be tempted to buy lemon juice while shopping but Naomi was adamant that fresh fruit and herbs are important while making drinks. She suggests nixing the bottled citrus mixers and dried herbs and using real fruit and herbs in all your drinks with her assurance that there is a definite difference in the quality of flavor.
Naomi also made an equally tasty Dirty chai Martini. It's built in a shaker with chai tea, coffee infused vodka and Rumchata and strained into a martini glass with cinnamon sugar coated rim. If you're using chai tea bags and not pre-brewed and boxed chai tea Naomi suggests a dash of plain simple syrup to add sweetness.
No matter what drinks you wish to make this fall, it seems the takeaway from these wonderful ladies was to use of fresh ingredients and a little bit of experimentation in the kitchen. If you want to do a bit of "research" before mixing these at home visit Melissa, Danya and Naomi and they can show you how it's done and what its meant to taste like. Above all else, be adventurous! Don't shy away from making your own simple syrups or picking ingredients from your herb garden. If coffee infused vodka seems like a pricey buy, make your own at home! Remember, the only bad drink is one that goes to waste and with these recipes in your cabinet a bad drink is impossible.
Save