For the Love of Tradition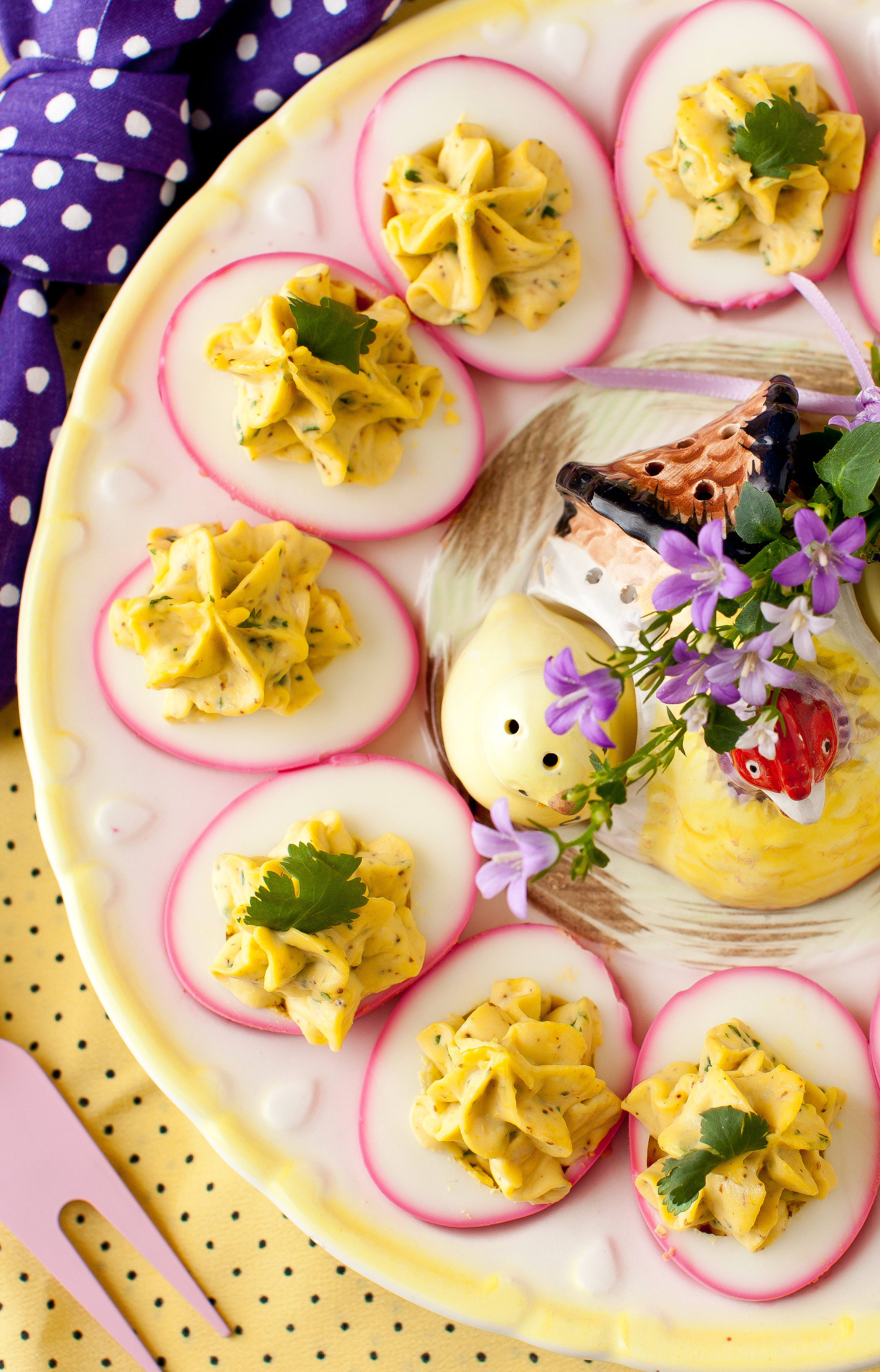 HOME COOKING
Because it always was.
And because it should be.
We're nominating the deviled egg as the quintessential picnic food. It defies logic, really. Eggs. Mayo. Suspect refrigeration. Yet they're the first thing most of us reach for, whether it's an intimate, blanket-top lunch or a crowded backyard barbeque. Even before the cocktail. Credit nostalgia. Every family has its time-honored recipes, but the deviled egg is the rare foodstuff that transcends personal history. We all seemed to grow up eating them by the handful. That creamy texture, the hint of heat—feels like home.
Recipes and photography by Yelena Strokin
The Deviled Egg
Makes 12.
6 free-range eggs, hard-boiled and peeled
Juice from a jar of pickled beets
¼ cup mayo
2 tsps. Dijon mustard
Cilantro, minced (reserve some)
Paprika to taste
Salt and pepper to taste
Soak the eggs in the beet juice anywhere from a half-hour to overnight. If you like pickled foods, longer is better. After their bath, remove the eggs and cut them in half lengthwise, then gently remove the yolks and set them off to the side. In a small bowl, combine the yolks, mayo, mustard and cilantro. Season with salt and pepper. Stir until the mixture achieves a smooth consistency, then transfer it to a Ziploc bag. Cut off a bottom corner and pipe a bit of the yolk mixture into the hollow of each egg half. Sprinkle with paprika and garnish with cilantro or a small beet slice.
There's good reason why the Brits continue to cling so fiercely to their high tea, and it's not the tea. A socially acceptable excuse to break in the middle of the afternoon and scarf down pastries? Yeah, that's worth protecting. Spare us the formality—we drink our coffee and tea in paper cups with plastic lids, thank you—but not the sugar rush. We may be new money, but we're not animals.
The Victoria Sandwich
Serves six to eight.
8 ounces unsalted butter, room temperature
4 free-range eggs, room temperature
1¼ cup sugar
1¾ cup self-rising flour
2 tsp. baking powder
1 tsp. vanilla extract
Raspberry or strawberry jam
1 cup whipped cream
Powdered sugar
Take the eggs out of the fridge about an hour before you plan to start. If they're colder than room temperature, it'll be harder for air to be whisked in, which will make the mixture more likely to curdle or separate. Likewise, the butter should sit out for a few minutes beforehand, too.
Preheat the oven to 350 degrees. And grease two cake pans, then line the base of each with parchment paper. In a large bowl, whisk together the butter, eggs, sugar, flour, baking powder and vanilla extract until they're thoroughly blended. Then divide the mixture evenly between the two cake pans and level them off.
Bake until the cakes rise and the tops spring back when pressed lightly with a finger, about 25 minutes. Then, let them cool for a few minutes. Remove them from the pans, peel off the parchment and move them to a wire rack to finish cooling.
Once the cakes have cooled completely, cut them in half, slather on some whipped cream and jam and put them back together. Sprinkle on a dusting of powdered sugar.
[divider]What I'm Drinking Right Now[/divider]
Chateau de Ségries Tavel Rosé 2014
$22 (750ml)
With the reemergence of a warm sun, my rosé fetish is back in full swing. There are a lot of preconceptions out there about rosé—it doesn't pair well, it's not especially masculine—but if you approach it with an open mind, you won't be disappointed. I'd even venture to say it's the most versatile wine out there, light enough for afternoon drinking on the patio but still a formidable companion for braised pork and grilled spring veggies. For the latter, try this Tavel. It's darker and bolder than you're thinking without forsaking that signature rosé crispness.
ADAM JUNKINS
Partner/Sommelier
Sovana Bistro
(Kennett Square)