You're Overthinking It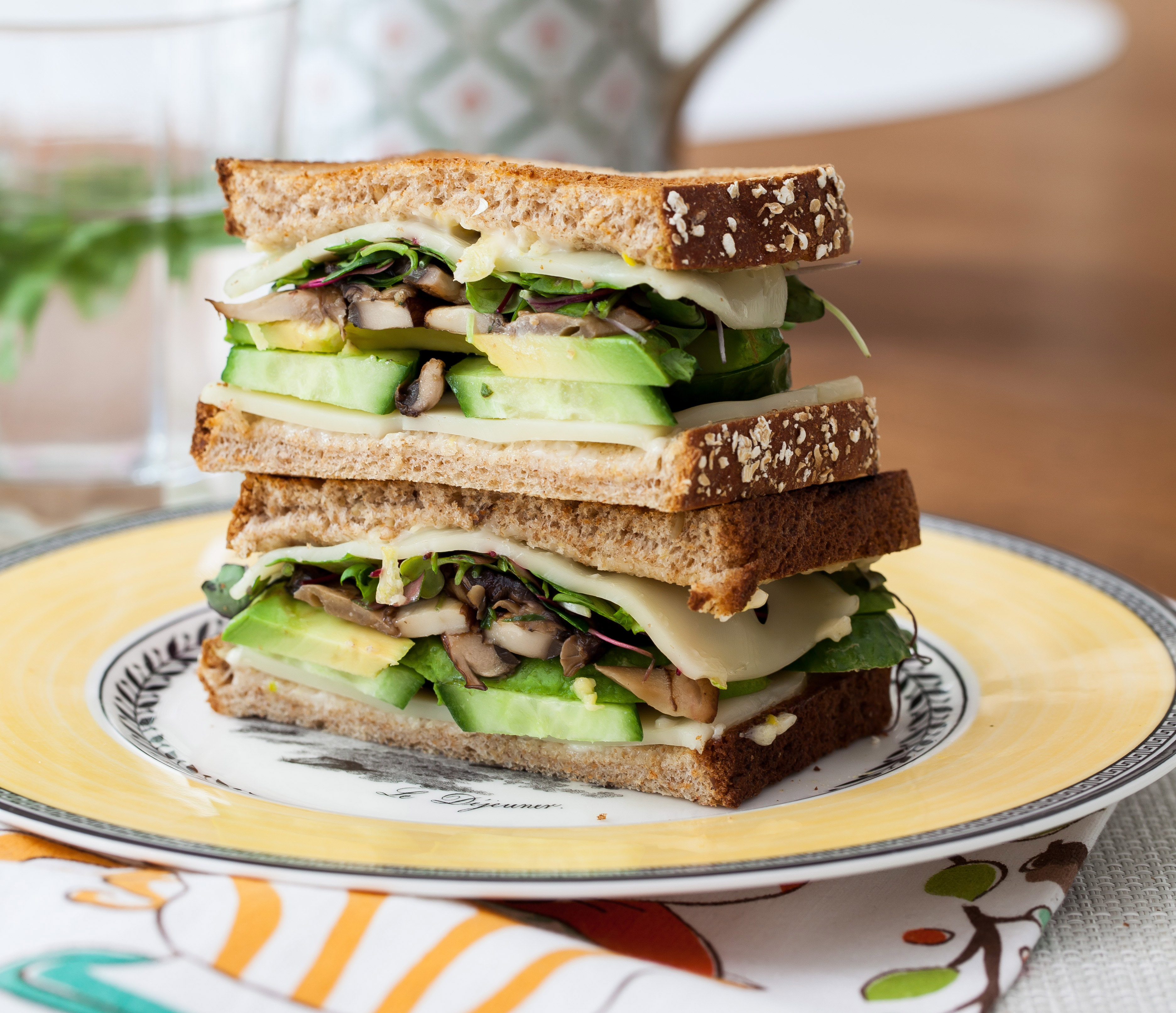 HOME COOKING
Even now, especially now, when everything's fresh and within easy reach, less is more.
We hear it all the time these days from chefs of every walk: Keep it simple. Have faith in the ingredients. But that's easy to say when you've been formally schooled and challenged by an elite mentor. For the rest of us, keeping it simple looks like a lot of disparate (and under-seasoned) ingredients spread across a plate. The trick isn't just keeping the complicated techniques to a minimum, it's also keeping the ingredients to a minimum. With almost everything in season right now, the tendency is to pick the garden clean and make it all somehow work together. But it won't, and it never will, no matter how fresh everything is. Think smaller and lighter. It's how you really want to eat when you're not doing it with your eyes. Three to five ingredients tops, and they should all complement each other, as they do here in this bright salad and hearty sandwich. This time of year, if it takes longer to make than it does to eat, you're overthinking it.
Photography and recipes by Yelena Strokin
Veggie Sandwich
Serves one.
2 slices multigrain bread, lightly toasted
2 tbsps. organic mayo
3-4 garlic cloves, peeled and minced
¼ avocado, sliced lengthwise
1½ tbsps. olive oil
2 baby portobello mushrooms
1 hothouse cucumber, sliced
Fresh microgreens
2 slices Swiss cheese
Preheat the oven to 350 degrees.
Add the olive oil to a skillet and warm it over a medium heat. Cut the mushrooms into thin slices, then stir them in. Reduce the heat to low and cook them until they're soft and blackened.
In a small bowl, mix together the mayo and the garlic. Spread it across one side of each bread slice. Then add a piece of Swiss to one of those slices. On top of that, layer the cucumber, avocado and mushroom. Top it with a handful of microgreens and the other slices of cheese and bread.
Place the sandwich in the oven just long enough for the cheese to begin melting, about three to five minutes. Then move it to a cutting board and cut it diagonally—because sandwiches always taste better when they're cut diagonally.
Cabbage and Beet Salad
Serves one.
For the salad
½ medium head of green cabbage, thinly sliced
1 medium carrot, peeled and grated
3-4 small beets, peeled and grated
¼ bunch scallions, finely chopped
For the dressing
2 tbsps. lemon juice
2 tbsps. avocado oil
1 tsp. dry-roasted tomatoes
1 tsp. dry dill
Salt and white pepper to taste
Sugar to taste
To make the dressing, in a small bowl, whisk together the lemon juice, dry-roasted tomatoes, dill, sugar, salt and pepper. Once it's thoroughly mixed, whisk in the avocado oil. Set the dressing aside at that point to allow the flavors to marry. After about 10 minutes, taste it and season accordingly with salt and pepper.
In a large bowl, toss together the cabbage, carrot, beets and scallions. Add the dressing, then toss once more.
Yelena Strokin is a Newtown-based food stylist and photographer and the founder of the blog melangery.com.
[divider]What I'm Drinking Right Now[/divider]
Sangria
Makes about 15 portions.
1 pint fresh blueberries
1 pint fresh strawberries
2 medium apples, diced small*
2 oranges, peeled, seeded and diced small*
1 large cucumber, peeled and diced into quarter-inch chunks
12 medium to large basil leaves, chiffonade
12 medium to large mint leaves, chiffonade
1 bottle Art in the Age Rhubarb Tea Liqueur
3 bottles crisp white wine (pinot grigio or sauvignon blanc)
1 bottle moscato d'asti (or another semisweet sparkling wine)
* These ingredients can be swapped out for just about any other seasonal fruit you prefer. Peaches, nectarines and cherries all work especially well, too.
Combine all of the ingredients, save for the wine, cover/seal and let it sit overnight. The next day, add the wine and stir well.
Ladle the sangria, along with a healthy helping of the fruit, into a wine glass or goblet filled with ice. Top with two to three ounces of the moscato d'asti.
ADAM JUNKINS
Partner/Sommelier
Sovana Bistro
Barbeque Pairings
Stocking the bar for a barbeque is a little more complicated than it first seems. Cold beer and white wine—no brainer. Until an old-school southerner (or wannabe) slips in and you're caught without brown spirits. Load up on these and you'll be loved by all comers. —AJ
Beer Fat Head's Brewery & Saloon Sunshine Daydream Session IPA
Low-alcohol (4.9 percent) with hits of pineapple, papaya, grapefruit and honey. Stays refreshing all afternoon and into the balmy night.
Wine Vinho verde
It's a dry, super-acidic wine from Portugal. Big on citrus flavor, low on alcohol (about nine percent). And at 10 bucks a bottle, it encourages a generous pour.
Spirits J.M. Rhum Agricole Vieux 10-year-old
Imagine nursing this smoky, leathery, bourbon barrel-aged rum while you man those ribs, and tell me your mouth doesn't water at the thought.