How to Live Out of a Suitcase with Dignity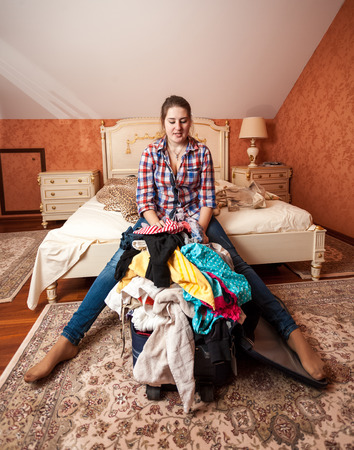 ORGANIZED HOME
A Hawaiian shirt does not make the tourist. A wrinkled shirt, of any kind, does.
By Laurie Palau
You plunked down a staggering deposit this winter to make sure that you're exactly where you want to be when the time comes: In a palatial, beachfront house at the very height of summer. Five bedrooms, more than enough to sleep immediate family and your closest friends comfortably. A commercial kitchen, which is overkill, if we're being honest. And a sprawling deck with an unobstructed view of the sparkling ocean, less-fortunate beachgoers aside. The thought of this week sustained you when your patience with Mother Nature waned in March.
And yet, you're living like a coddled teen about three hangovers' deep into senior week. How else do you explain the Fiat-size suitcase in the corner of the master bedroom that looks like it threw up all over itself?
Sure, there's an art to packing. Anyone who's spent even a single night away from home is well aware of that. But there's an art to unpacking too. It may seem like a small thing, but, come Day Three, rooting around for a clean outfit to wear to a restaurant is going to start to grate on you—and even the coddled teen at senior week. So, here are a few moves that'll keep you square in the lap of luxury.
First in, first out. Whether you keep them in a makeup bag, a dopp kit or even a Ziploc freezer bag, your toiletries should be the first things you stick in your suitcase and the first you pull out upon arrival, because they're going to get the most use. And once your bathroom's arranged to your liking, it'll feel a little more like home. Which you'll immediately appreciate when you try to brush your teeth after polishing off a couple bottles of wine at dinner.
Plug in, then unplug. The electronics are the next to go. Dig out your phone and tablet—if you brought any more than that, you should be ashamed of yourself—along with their respective charging cables, and plug them into an out-of-the-way outlet. (Read: anywhere you won't trip over them.) They'll be there, fully charged, when you need them. But you won't.
Five minutes, if that. In the grand scheme, hanging our clothes or organizing them in dresser drawers is the blink of an eye. Still, on vacation, we resist it with all the fervor of a five-year-old forced into cleaning his room. I've seen people note the impressive capacity of hotel room closets and then never open them again. Unpacking should be that much easier, too, because you packed minimally—a few tops, a couple bottoms and pairs of shoes and a handful of accessories, all of which can be mixed. Once it's all out, toss the suitcase in the closet as well. Out of sight, out of mind.
All trips must end. Whether I wore something or not, I'm washing everything when I get home. But that's me. It doesn't mean, though, that I'm using my empty suitcase as a hamper. I cannot stress this enough: Once sand gets into your suitcase, you will never get it completely out. Pack a garbage bag (or two), stuff it with your dirty laundry and keep it in the closet.
Laurie Palau is the owner of the New Hope-based simply B organized, a home and life organization service.