A Place for Everything (Which was No Small Feat)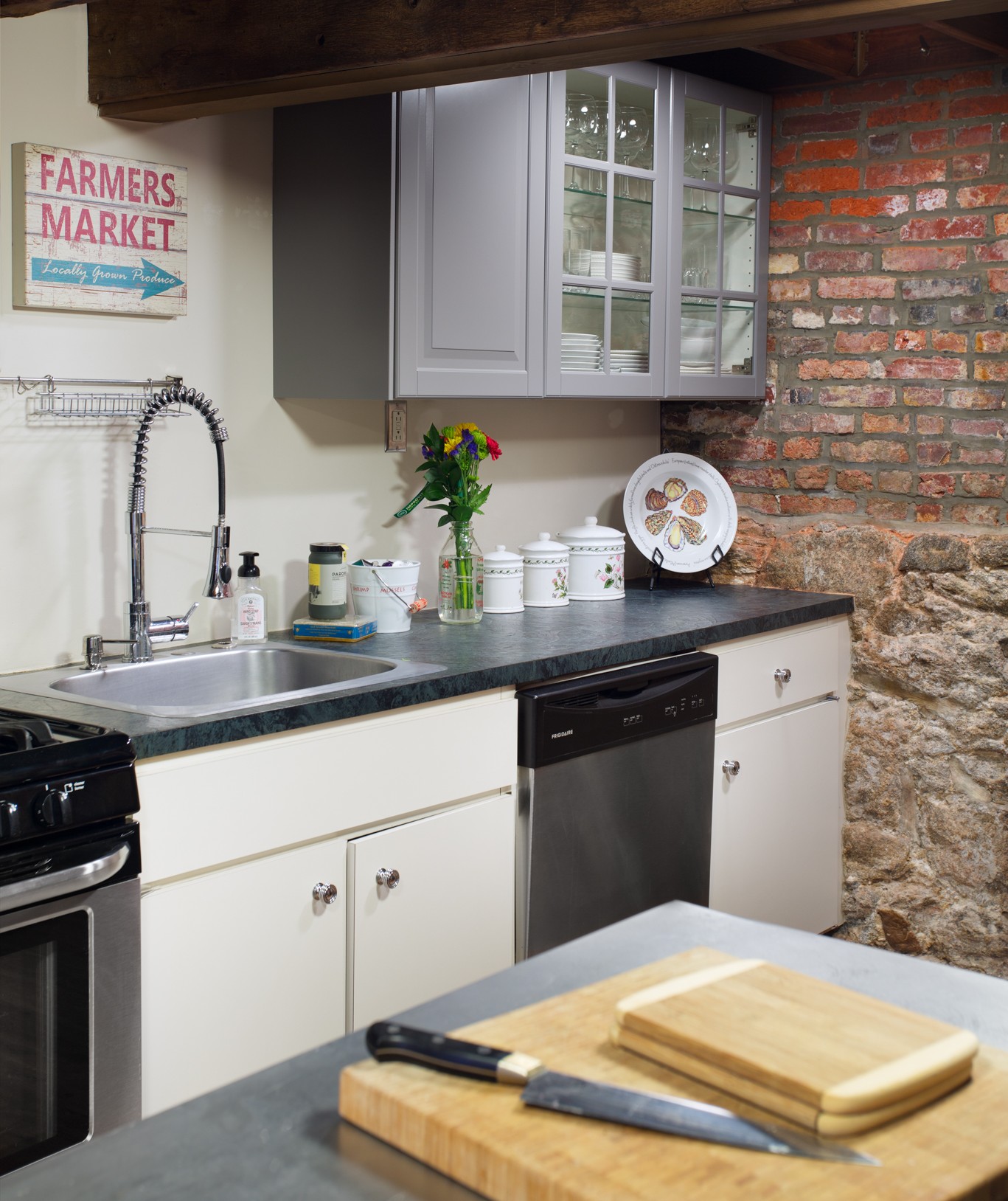 HOME DESIGN
The husband-and-wife owners of Wayne's Cornerstone Cheese & Charcuterie share their Society Hill kitchen, a modest space that packs a surprising punch. Not unlike their surging shop.
By Scott Edwards  ·  Photography by Brandon Wyche
Down a steep, narrow spiral staircase, in the basement of a brick townhome in Philadelphia's Society Hill neighborhood, sits Christine Doherty Kondra and Nick Kondra's kitchen. For all of its colonial-era charm—the brick and stone wall, the exposed, original floor joists overhead—the space is, foremost, a model of efficiency. Because it has to be. Two people of average height standing shoulder to shoulder, arms outstretched, could probably cover the full length of the room. When they moved in, the sum of the storage was a couple of floor-level cabinets and a shallow pantry. The only source of natural light, the contemporary door that opens to the sidewalk, which doubles as a sort of skylight.

     But there was a gas stove, and that was every bit the priority that location was to them. This was two years ago, and Doherty Kondra was working as a private chef. "So every single day I was cooking. And not a little. A lot," she says. The Berwyn native met Kondra, who's from Syracuse, at a party their first summer working on Nantucket as chefs. They were engaged three years later. In November 2014, they moved back here to be closer to Doherty Kondra's family. Coming from Boston, they gravitated to Philly. Kondra became the pasta chef at Amis. Within the next two years, they'd open Cornerstone Cheese & Charcuterie in Wayne. But, for now, Doherty Kondra was left to piece together a functioning kitchen in order to make a living.

     So, there was the gas stove, at least. It didn't vent, though. "The woman who had been here I guess for like 15 years prior used the microwave to cook," Doherty Kondra says. "So she had never actually turned the stove on." That was corrected in short order. The unique (read: wildly inconsistent) dimensions of the kitchen added to the challenge of outfitting it. They landed on a compact island from Crate & Barrel with a stainless steel top and a wooden bottom that doubles as their dining table. There's also a shin-high shelf hidden underneath. They installed a trio of eye-level cabinets from Ikea. And Doherty Kondra, with the help of her uncle, built the simple shelving that spans the length of the opposite wall, since nothing she found could accommodate the limited space and the varying heights of their pressure canner, crockpots, blenders and pasta machine.

     A pegboard that runs the full height of the door that opens to the next-door laundry room holds most of their hand tool arsenal. And their copper pots and pans hang in neat rows on the wall immediately on the other side of that door. Look closer and you'll notice that the spices housed in the lower cabinets and the pantry's contents are even alphabetized.
"Everything's organized according to how I cook, and to be able to just easily grab and go," Doherty Kondra says. "When we're cooking down here, I have to remind Nick we don't have a dishwasher." A person, not the machine. There is a dishwasher. "That's a common problem with guys that are used to the [commercial] kitchen; they start cooking at home and they're using every single pan. You don't do that as a private chef. You use like one, or two, or three, and you clean as you go."
Since Cornerstone has taken off, they're cooking less for themselves and using this home more as a pied-à-terre. They spend most nights during the week in a second home near the restaurant.
"I'm ready to take the plunge and just stay out in the suburbs," Kondra admits.
His wife, however, is reluctant to let go of the city. "If we had all the money in the world, I would raise our kids in Philadelphia and buy a beautiful brownstone a block from here," she says. "But we didn't win the Powerball. It's not going to go that way."
Kondra planted another seed, and now he seems to be winning her over. "It sort of dawned on me," Doherty Kondra says, "if we have a place in Wayne full-time, then we'll come into the city—"
"And," her husband jumps in, "stay at the Four Seasons." Well played.
Not to gloss over the 60 kinds of handpicked cheese for sale or the house-made sausage, but it's the deftly edited restaurant at Cornerstone Cheese & Charcuterie that shot it into orbit. Weekends are booking at least a week out. Impressive for what was supposed to be a gradual introduction. The original concept was a gourmet-bent shop that staged the occasional cooking class. And then, a couple months in, dinner service.
At the heart of the uniquely intimate atmosphere is a U-shaped, 14-seat chef's counter—those are, by the way, the only seats in the restaurant—that encircles an open kitchen. Watch your meal come together or turn your undivided attention to your dinner companion. There's no in-between. This is not a communal table. And beyond the Van Morrison bellowing softly in the background, there are no distractions. Even the wait staff seems to make itself invisible, plates appearing magically before you.
This is not dining out as you're used to it, especially in Wayne. With the volume turned down on the white noise, the food and the conversation go 4K HD. —SE