Your CSA Field Guide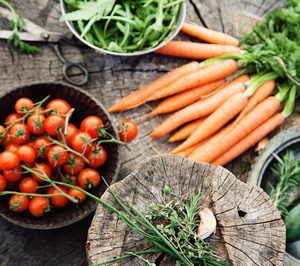 GREEN GROCER
The time to register is now, before the growing gets good. But every share's a little different, so allow us to play matchmaker.
By Bill Gelman
We're in the throes of CSA registration season. A few years ago, that news would have elicited a faint "Yay!" from the back of the room. Today, a mad scramble just broke out, because there are precious few shares still up for grabs. Community Supported Agriculture is a booming industry. There are now more than 12,500 of them nationwide, but the interest has grown just as fast, if not faster. Even with work requirements and more cucumbers than you'd ever want to eat in five lifetimes. What follows is a field guide to some of our favorite to CSAs to help you find the share that'll best fit your family. Or, considering the urgency, just help you find a share.
Anchor Run Farm | Wrightstown
A pioneer of the movement around here—this is Anchor Run's 13th CSA season—it's also one of the earlier adopters of sustainable farming. All of its crops are chemical- and GMO-free. Those looking for an easy haul, however, may want to continue their search. Every share comes with a work (harvesting, planting, weeding and thinning) requirement—eight hours, at least, over the course of the season for full shares and four for half-shares. Seasons Spring, Summer, Fall Cost $410-$800
Myerov Family Farm | Perkasie
Half- and full-shares are available with and without work requirements (12 hours for full-shares, six for half). You'll end up saving a little under 20 percent by pitching in. Sweetening the enticement even more, Myerov gets creative with how, exactly, you can knock off those hours. They don't necessarily need to be spent out in a field under a soul-scorching sun. Host a pick-up location instead or a potluck dinner, or write the CSA's blog. Wait. Never mind that last one. Seasons SSF Cost $360-$720
Blooming Glen Farm | Perkasie
If you're an adventurous eater, welcome to your new CSA. Blooming Glen will set you up with all the staples over the next several months—arugula, heirloom tomatoes, sweet potatoes—and they'll also throw you the occasional curveball, like Hakurei turnips and kohlrabi. Come those weeks, refer to their blog, where they'll post recipes so that you can act like you know what you're cooking. Seasons SSF Cost $420-$795
Honey Brook Organic Farm | Hopewell, NJ
Honey Brook's actually comprised of four separate farms, two in Hopewell Township and another two in Chesterfield Township, in Burlington County, New Jersey. Pick-ups are available in both locations, and crops are shared among them (different conditions mean certain crops grow better and longer at one than at the other). An innovative box share program is also available. There, shares of various sizes are delivered weekly to several central locations around Pennsylvania and Jersey. If you've been overwhelmed by the size or your share in summers past, the box share is the way to go. Seasons SSF Cost $369-$769
Sandbrook Meadow Farm |  Stockton, NJ
It's the end of July, and if you so much as lay eyes on another cucumber, you're liable to fly into a Walter White rage. Brilliant as farm-fresh produce is, it can get a little monotonous, even at the height of season. Especially at the height of the season. Sandbrook's come up with a savvy way around that. Membership fees are converted into credits, which you can then use as liberally or as frugally as you like throughout the season. Snatch up all the strawberries that you can fit in your car and then skip the next couple weeks entirely as you slowly realize your eyes were bigger than your stomach. Seasons SSF Cost $425-$925
J & J Farm of Glen Mills | Glen Mills
Farms, of course, are good for more than fruits and veggies, but that can get lost in a CSA's onslaught. Not with J & J's, though. Every other week—it's a biweekly schedule—they also toss in free-range eggs from their own chickens, along with something out of the ordinary, like pickles in the summer and apple cider in the fall. Basically, the kind of small-batch stuff that lured you to a farmers market in the first place. Seasons Summer, Fall, Winter Cost $195-$360
Jack's Farm | Pottstown
We realize that the costs we're throwing around here are not insignificant amounts. And a lot of these farms require that the whole thing be paid up front since the brunt of their expenses comes over the winter. So, if you're wading into the CSA waters for the first time, Jack's is the safe play. The extent of your commitment here is one week. Seriously. Every week, the farm emails its subscribers a list of the available produce and what the share will cost. You decide then and there whether you want in—usually. Some weeks, there won't be enough to go around, and because you're a newbie, you'll get last dibs. Seasons SSF Cost T.B.D.
Kimberton | Kimberton
You're looking at the OG of the CSA movement around these parts. Barbara and Kerry Sullivan, with a little help from some neighbors, doled out their first harvest almost three decades ago, making Kimberton the first known CSA in Pennsy. Even now, Kimberton remains on the forefront. They'll see your organic certification and raise you a biodynamic farm. It's a deeply intensive practice. But all you really need to know is that it yields the purest fruits and veggies. Seasons SSF Cost $500-$910