Weeds of Change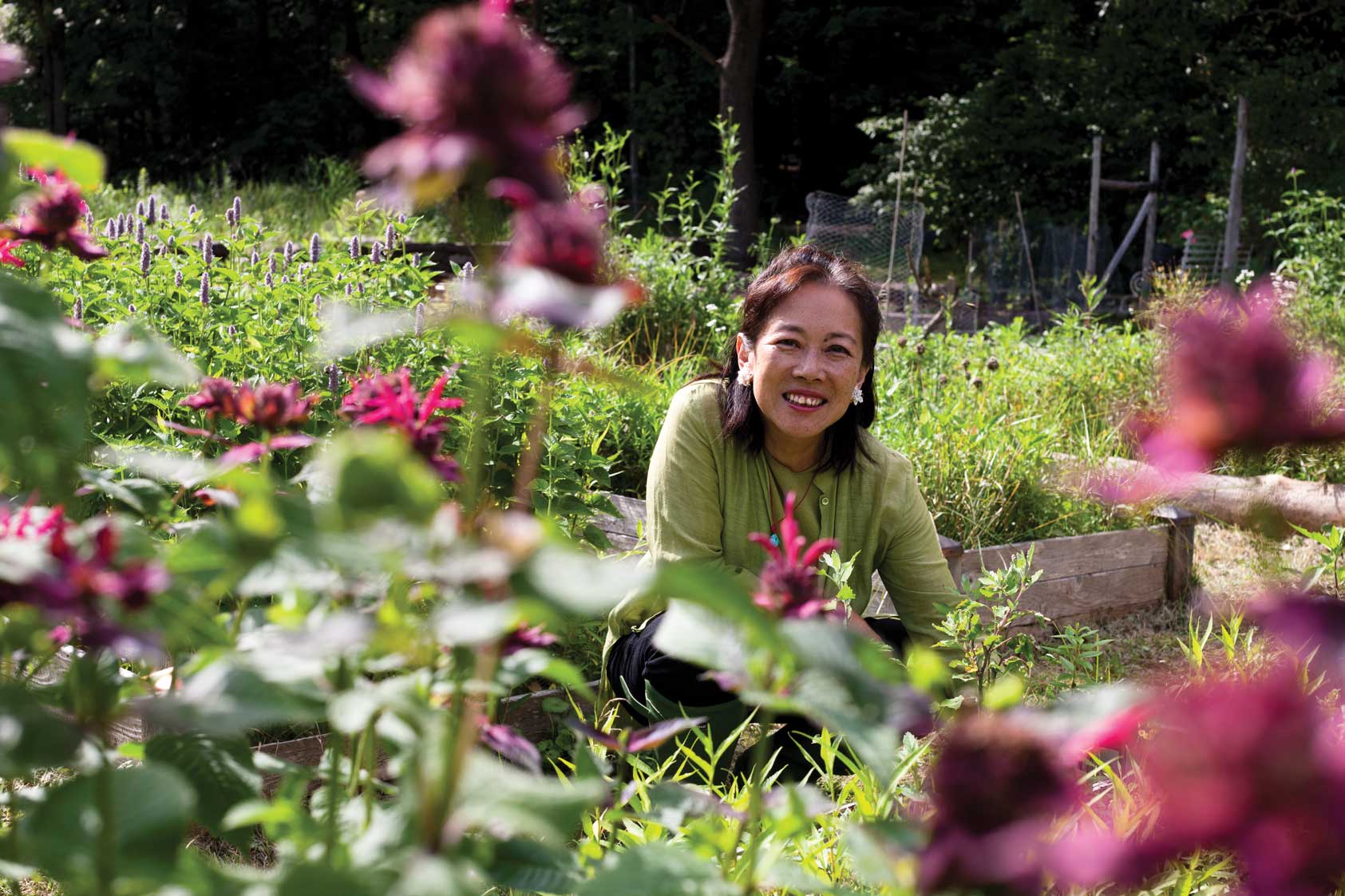 DIY
At the forefront of the wild food movement, lawyer turned forager Tama Matsuoka Wong is turning weeds into a thriving business and a way of life.
By Jessica Downey • Photography by Josh DeHonney
Tama Matsuoka Wong was an international financial services lawyer for decades, working in major urban centers like New York City and Hong Kong for 25 years, but when she and her husband Wil decided to move to New Jersey in 2002, near where she grew up in Princeton, Wong was prepared for her life to change course. She wanted lots of land and big sky, so they bought a house on 28 acres in Flemington.
With all that open space, for first time in her adult life, Wong tried to grow a vegetable garden. What she got instead was a tangle of uninvited weeds and roots, which ended up being her ultimate good fortune. "Friends tried to show us how to grow tomatoes and vegetables, and everything died. I had a black thumb. We eventually found out we lived on a clay flood plain and all we could grow was weeds," Wong says. "I tried to get rid of them, but I found that it was a losing battle."
When she enlisted her Japanese father for help removing the weeds, she was surprised at his reaction—he couldn't believe her luck. One of the weeds she wanted removed was chickweed, one of Japan's "seven treasures," known as hakobera, which can be delicious when prepared properly. Wong started scouring the Web and bookstores for recipes, but most books and blogs she found suggested boiling them three times to get out the bitterness, so she went in search of a more refined understanding.
One night, in 2009, she brought some of her chickweed and other "twigs" with her to Daniel, the four-star Michelin-rated restaurant in New York City known for its inventive vegetarian cuisine. The head chef, Eddy Leroux, was delighted by her offerings and asked her to return with more, as well as roots and any other wild plants she found on her land.
These weeds were valuable, she soon learned, a discovery that coincided with the early days of the foraging movement, which was quickly gaining speed and momentum. These kinds of ingredients were gaining prominence on the menus of fine dining restaurants from New York to Copenhagen, and her 28 acres of twigs, roots and leaves provided her with an opportunity to be on the forefront. Later in 2009, Wong started her own company, Meadows and More, with the primary goal of helping people turn their yards into more natural landscapes.
While the concept of foraging brings to mind images of scavengers or anthropological ancestors scouring the earth for food, a more culinary interpretation has led to a movement described by the iconic chef and restaurateur Daniel Boulud as "harvesting the wild, ephemeral and rare flavors found in nature." The movement has blossomed around the idea that we've been selecting plants for many generations that are increasingly high in sugar and starch and consistently lower in vitamins, fiber and minerals. Wild foods, foragers contend, are more nutritious and easy enough to find when you know what to look for.
A quick Google search will turn up plenty of resources and food blogs with ideas on cooking with foraged and wild foods, but when Wong made her discovery in 2009, books and sites to turn to for inspiration and advice were sparse.
"Publishers were looking for an American book," Wong says. She obliged by writing a field guide/cookbook with Daniel's Leroux called Foraged Flavor: Finding Fabulous Ingredients in Your Backyard or Farmer's Market, which was published in 2012.
The book garnered plenty of attention and was nominated for a James Beard Award in 2013, which, of course, was a boost for her budding business. Today, she grows and cultivates weeds and wild plants on her land and land she leases from local farmers. Then she partners with restaurateurs and chefs, including Brick Farm Tavern partner/executive chef Greg Vassos, supplying them with the likes of garlic mustard and nettles and helping them develop flavor profiles for each plant.
It takes consistent trial and error to figure out what will grow, sell and taste good, but Wong says the experimental nature of her work is a thrill. "For every failure there's this new and good thing happening," Wong says. "I have relationships with conservation groups where I take things they don't want, and I work with organic farmers. And it's completely invigorating."
[divider]Walk on the Wild Side— But Watch Where You Step[/divider]
If eating your weeds is more tempting than constantly battling them in your garden,  Wong offers some advice on how to start foraging. —JD
Look down. If you have a backyard or a vegetable garden, instead of throwing out something you don't recognize or didn't plant, take a closer look and try to appreciate it. I have a forum on my Web site (meadowsandmore.com) that lets you upload a picture, and we'll identify it for you.
Start small. Try something you're already familiar with, like a dandelion, and be patient.  Find out when its tenderness and sweetness peak. (Those initial leaves can be bitter and harsh.)
Get to know it. Engage with the plant and get to know it—it's behavior and what you can do with it.
Don't rule anything out. I came across some hickory bark. It looked like a house shingle, and I was like, Oh, great, bark. But to my surprise, my client came back and said it was amazing. He used it in shag bark/hickory bark ice cream, which tasted like smoky caramel.