5 Habits of a Highly Effective Wife-Mother-Entrepreneur-Do-Gooder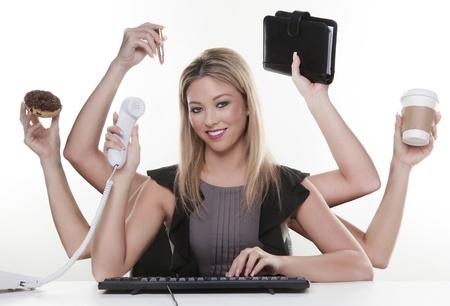 ORGANIZED HOME
She's way too modest to say so herself, but there isn't anything our resident organizer, Laurie Palau, can't do. While the rest of us here only ever seem to add to our to-do lists and plead for extensions, Laurie's turning her columns in a month ahead of deadline. (That's no exaggeration.) Tired of looking so pathetic by comparison, we finally asked how she does it. This is her reply.
By Laurie Palau
I get it. Trust me. Between two busy teens and a pair of working parents, our front door is a revolving door. It occurred to me long before we ever reached this point that if I didn't structure my life around some hard habits, my life was going to jump the rails, and fast. This is what I came up with. I'm proud to say I've remained true to them, and, in turn, they've never done me wrong.
Meditate
Regardless of what time it means I have to get up, I always set my alarm for 30 minutes earlier than I need to be up. That half-hour is mine, and mine alone. The house is quiet, the coffee is hot. Amid that peace, I do the following: I review my tasks for the day, which keeps me from feeling frazzled later on; I read a daily devotional, which motivates me and reminds me of the bigger picture; and I peruse social media, which reminds me of the smaller picture. If I don't have another moment to myself for the rest of the day, I'm OK with it, because I have my half-hour to look forward to tomorrow.
Volunteer
Truth be told, I'm overextended a lot of the time. But I never regret volunteering. It fills me with a satisfaction and gratefulness unlike anything else I do. Find a cause that means something to you, and offer your help. It doesn't need to be an all-consuming commitment to count. If you've only got a couple of hours a month, that's not nothing. And you'll be shocked to see how totally disproportionate your impact is.
Delegate
Since they were old enough to understand the words that were coming out of my mouth, I've tried to instill in our kids that our family is a team; we're only viable if everyone contributes. Me shouldering the bulk of the load—cooking, laundering, unloading the dishwasher, cleaning, walking the dogs—is not sustainable. Plus, I'm pretty sure they'd never move out if I did. Assign a few small, age-appropriate chores and build from there. They won't be done to your specs, but you'll be a happier person for it.
Divide and Conquer
There's very little that's more defeating than confronting a run-on to-do list first thing in the morning. Where to begin? Why begin at all? My way around that is crafting multiple (short) to-do lists on Wunderlist. I have one for work, another for family and a third for volunteering. Each day, I pick three to five things that I want to accomplish—in total, not from each list. Having three lists going at once helps me prioritize and feel like I'm actually getting things done—because I am.
Unplug
The same way I dedicate a half-hour every morning to easing into my day, I shutdown all of my devices a half-hour before I go to bed. Maybe not every device. I still watch TV. The idea is to disengage and start separating myself from the day. If I put my iPad down and tried to fall asleep right away, it's not going to happen. Even if I was scrolling through something totally unrelated, my mind's going to want to rehash the day or start prepping for tomorrow. By contrast, once I get comfortable, it sets off a gradual chain reaction in me. Next stop: Sleepy Town.
Despite whatever they're going to say about me, I'm no Wonder Woman. I'm not immune to stress. I get overwhelmed. I lose my patience. There are too many days when I don't get everything done that I need to. But that doesn't mean that I'm going to give in to any of that. I've learned to cope with it. Tomorrow, I'll savor my coffee and take another run at the world.
Laurie Palau is the owner of the New Hope-based simply B organized, a home and life organization service.