A Study in Restraint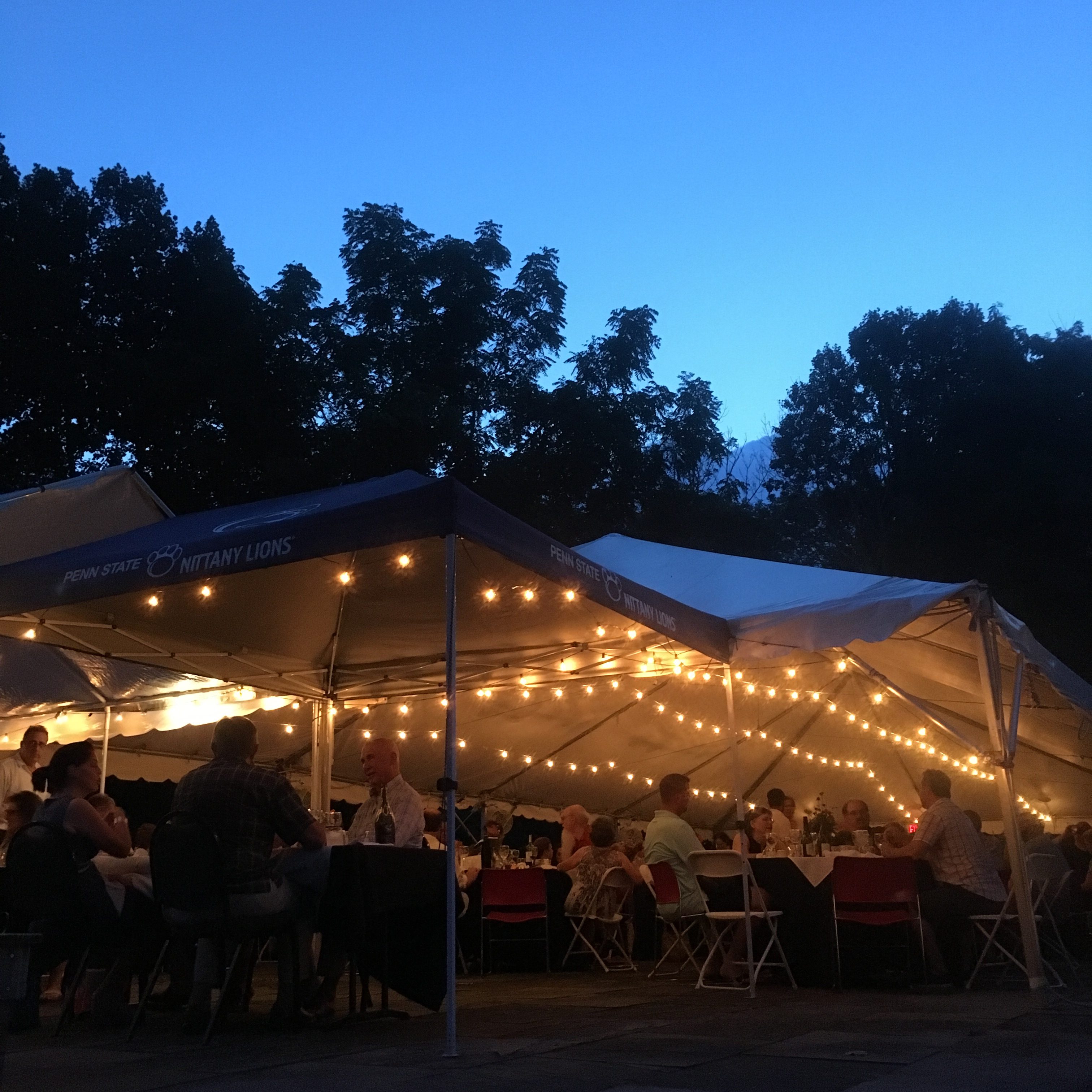 GRASSROOTS
The Doylestown Food Market's annual dinner pays homage to the growers at the heart of its mission.
By Kendra Lee Thatcher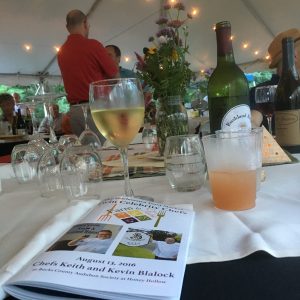 To me, the only thing sexier than a classy crowd of farm-loving, loca-gastro-vores is a classy crowd of farm-loving, loca-gastro-vores dripping in sweat.
Saturday's relentless heat index of 106 was no deterrent for the Doylestown Food Market's supporters, who gathered around communal tables under tents at the Bucks County Audubon Society's Honey Hollow preserve in Solebury for the market's annual farm-to-table dinner, proceeds from which help support the cooperative grocery.
Responsible for the night's menu were twins Keith and Kevin Blalock. Keith is the chef at PA Soup and Seafood and Penn Taproom, both in Doylestown. Kevin is the chef at Lookaway Golf Club in Buckingham.
The star of the cocktail hour was a decided underdog, given the stylish offerings. The Dublin-based Sole Kombucha's watermelon lime kombucha mixed with Rushland Ridge Vineyard's Trimonette was a refreshing respite from the stifling night.
Mushroom risotto croquettes and horseradish-crème filet mignon toast points were passed around. I stood at an out-of-the-way high top and took it all in—honey-colored beams crisscrossing in an architectural web above a fluid, mingling group.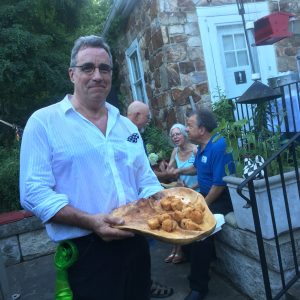 Dusk cast its evening twilight over us and, mercifully, reduced the humidity to a comfortable level. Twinkly lights and filament bulbs, strung above our tables, gave the setting a quintessential summer glow. Almost right from the start, the conversation around my table flowed effortlessly, rife with gardening advice, recipe swapping and updates on a host of other grassroots movements.
The dinner was studded with the fruits of nearby farms. An heirloom tomato salad with Blue Moon Acres microgreens. A vegan ratatouille with Roots to River squash.
And then there was the porchetta, made from a heritage breed hog raised in Lancaster. The chef placed a healthy serving atop my plate, but I didn't budge. He looked at me. I looked at him. Our eyes dropped down to the carving board together and I asked, "Would it be weird if I requested a helping of the skin?" A wide smile spread across his face. "Are you kidding? Do you hear that crackling," he said, as he crushed and snapped the skin in one hand. He piled several large pieces onto my plate, and finally I moved on.
The pork was not disappointing, succulent and seasoned deftly with garlic, rosemary, sage and thyme. But my table, the tent, the world went mute when I bit into the skin—crispy, caramelized, savory, fatty perfection.
The menu was not especially innovative. But, then, we weren't soaking through our clothes in anticipation of witnessing any culinary feats. This audience and the chefs shared a fondness for the ingredients, harvested a day or two earlier at the peak of their ripeness. We were there to taste purity, which may actually be a kind of culinary feat.