This is Repurposing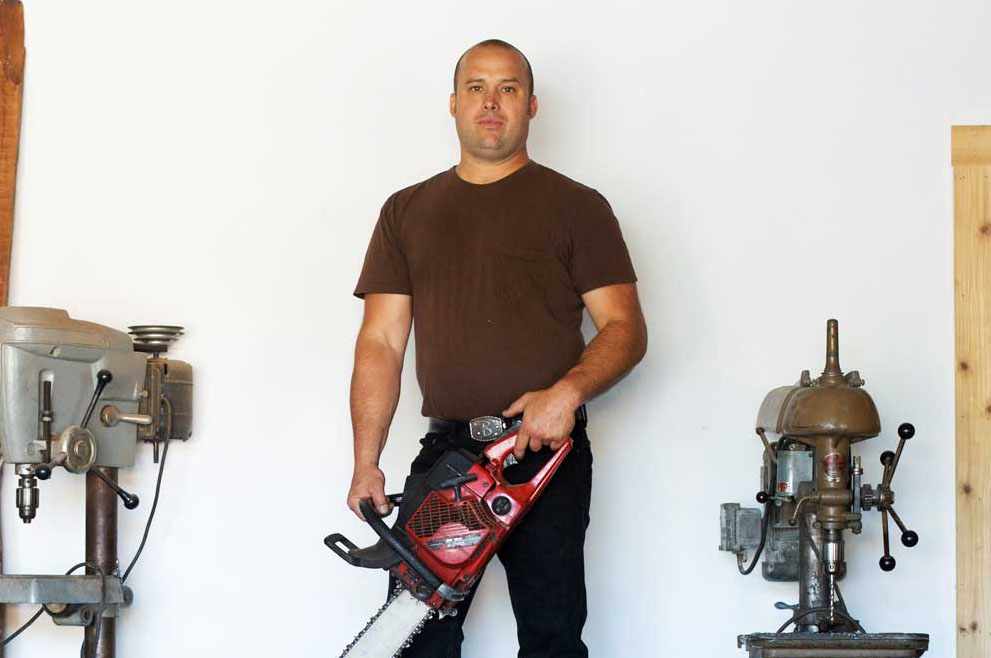 CRAFTSMAN
Bret Cavanaugh's scavenging verges on hoarding. But the things he's crafting from that junk are remarkably original. And now, with the debut of his first furniture collection, he's poised to redefine modern design, too.
By Scott Edwards
I'm not clear. Where is your workshop again?
"Do you know the Wine Hut?"
Got it now. Thanks.
There are still some addresses where GPS will betray you. Bret Cavanaugh's workshop is one of them. Then again, mine could have led me right to his front door, and I'm still not sure I would have realized I'd arrived in the right place. It resides among a ramshackle storage facility just north of Frenchtown, New Jersey, where the storage units are old shipping containers. But even that conveys a degree of orderliness, which would be misleading.
I pull in, then back out, prepared to go where, I'm not sure, when Cavanaugh waves me down from behind an old, mostly-dismantled Toyota pickup that sits in front of his workshop.
Cavanaugh is wearing a T-shirt, shorts that extend below his knees and construction boots that are laced up well above his ankles. All of it is covered with blotches of stain and/or paint. As are his stubbled face, his arms and his hands.
He's been here, in this space, for the last three years, but he's been working on the property, on and off, since he started getting serious about making furniture, about 10 years ago. The front room is a large, wide-open setup that still manages to feel crammed with loose-end materials. It's also where his tools and machines are, most of it relatively organized by contrast.
Cavanaugh leads me to the back, through a salvaged-wood door of his own creation, to a much smaller room that he's using as a showroom for the time being. It's furnished, mostly, with a few large pieces from his Trophy Series, which he crafted specifically for the International Contemporary Furniture Fair at the Javits Center in May. He devoted himself to the collection for the better part of the last two years, and he's just now, in late June, beginning to reclaim his life.
I'm having trouble digesting what I'm seeing, and it's not just the suffocating heat. Everything I was exposed to up until this point indicated this was some sort of salvage yard. But the furniture in this room is right on the leading edge of modern—polished metal, sharp angles, abstract forms.
Cavanaugh is a compulsive scavenger. (And a bit of a hoarder.) Thus, the seven 40-foot shipping containers of his own, all filled to their capacity, clustered around the outside of the building. When he was starting out, it was the cheapest means by which he could source his materials. Along the way, it somehow became his signature.
"A lot of the stuff that I have comes with a story," he says. "That's kind of my thing."
There's an ingenious coat rack made from a bucket of crank arms he found on the side of the road and lithograph frames embellished with driftwood in an Etsy-ish riff. His is not a modern-farmhouse aesthetic. He's not sanding, painting and reissuing. To call that repurposing against what Cavanaugh's crafting is gross negligence.
That stuff, though, stands among but separate from the Trophy Series, his first collection crafted entirely from scratch. Still, the dining table, armoire, dresser and chandelier are clearly the next phase in the evolution of the same resourceful craftsman. The intricacy of the designs and the unorthodox juxtaposition of materials attest to a thoughtful, intensive process.
"What I try to do is make diamonds, make these pieces that are memorable but that capture something in somebody. Make them feel something," Cavanaugh says. He talks quickly, his eyes widening and narrowing with his cadence. "I think 99 percent of people, even if they know furniture, they don't know the depth of it."
Not his, at least.
The Swiss-Army furniture maker
Cavanaugh doesn't obsess over wood. (He's got about a dozen logs behind his shop, and he plans to install a sawmill soon, but that has more to do with control and cost-efficiency than any kind of reverence.) Nor is wood his only medium. Or even his primary medium.
He grew up in Lambertville, NJ, around an antique car garage, built motorcycles for fun in high school, studied machinery, leatherwork, metal fabrication and welding. He also worked as a chef. (He built his own food truck.) And all of that experience and knowledge is applied regularly, often within a single piece of furniture. In fact, that's what holds his attention, which is no easy task.
But what drives his designs is an ability he's devoted no time to cultivating.
"I have a photographic memory, and I can mimic things really well," Cavanaugh says. "That's basically a huge portion of my skillset."
He watches someone do something once, twice maybe, and he can put it into practice. That's not to say that he's an immediate expert; just a faster learner than most.
The bio on Cavanaugh's Web site describes him as a "Hunterdon County native," which struck me for some reason, probably because I'd never seen it phrased as such before.
"I think it was an important thing to say, as far as the tradition of the furniture," he says.
Do you connect with that?
"Yeah. I connect with it a lot," he says. "I have Phil Powell's table saw in there. I have his lifetime collection of sea glass. I'm going to cast it into a table soon. And I have a couple of his tools.
"I get a lot of inspiration from Paul Evans and Phil Powell. They didn't have any questions about what they were doing. They just did it. They didn't look for any outside opinions."
Living with his furniture
"This," I say, "is the longest you seem to have stuck with anything. Does that mean you're a furniture maker?"
"That's a good question. That's a really good question," Cavanaugh says, slowly with the first sentence and slower with the second in that manner that it's evident the observation is just occurring to him. Which surprises me, in turn, because we spent the previous 20 minutes talking through his plans for tomorrow, for the next few months and, potentially, the next few years. Don't let the half-dozen shipping containers loaded with other people's junk fool you. Cavanaugh knows what he wants and how to go about it.
"I'd like to do a food thing again," he says. "And I'd like to design and build houses, modern spec houses, the same way I build furniture, with a hundred different materials and a hundred different finishes."
You should probably build one for yourself first.
Turns out, he recently came across a home in nearby Milford that he could see making his own, retrofitting being a shorter path than building from a blueprint.
"It's an industrial building. It looks like a house on the outside, but inside it has these 18-foot ceilings," he says.
If he moves forward with it, the home would double as a showroom. He's already plotting his first piece of furniture. Cavanaugh walks over to a corner of the front room where he's amassed quite a collection of the rectangular shells for those old freestanding phone booths. "Where else do you see bent metal like this?" he says. There's even more on the other side of the room. In all, there are probably 20 of them. His plan is to make a Herman Miller-style, wall-mounted shelving system with them. He's going to weld them together, line them with mahogany shelves and affix doors to some. He wants the backlit strips across the top that say "phone" to light up again, too.
An homage, but very much a Bret Cavanaugh original.
All photos courtesy Bret Cavanaugh / Andrew Wilkinson