Eat the Lehigh Valley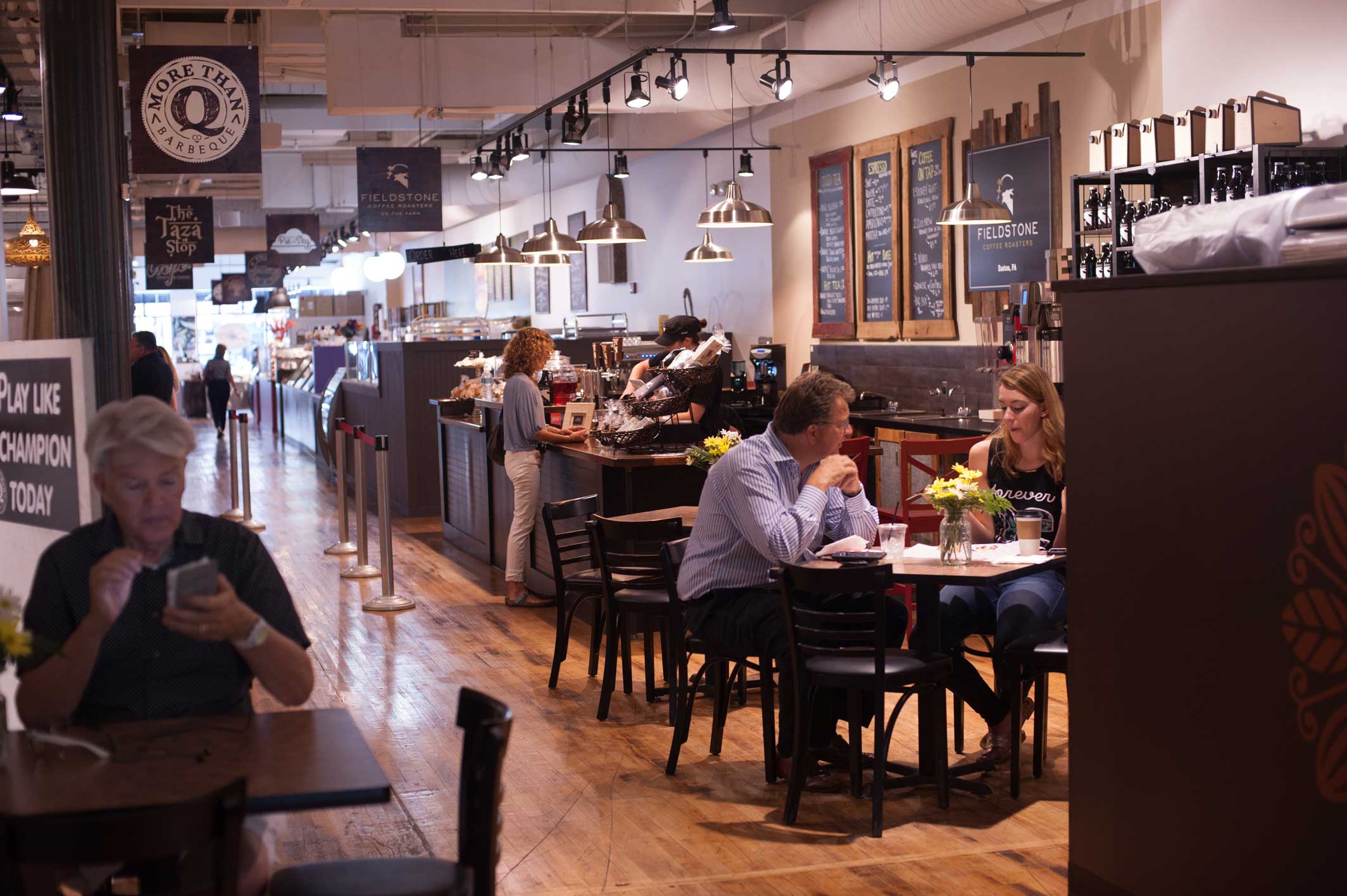 Nowhere else do the increasingly sophisticated flavors of the region come together as well as they do at the Easton Public Market. The trick is not filling up too fast. Follow us for the way.
By Kendra Lee Thatcher  ·  Photography by Jennie Finken
If I've learned anything, it's that everyone should have at least one person in her life who embodies these three qualities:
1. He/she is nonjudgmental, especially in the presence of slurping.
2. He/she is always down to eat, no matter the time and place.
3. He/she is always thinking ahead.
That last one proved especially valuable, because I approached the Easton Public Market with the singular (and narrow-minded) ambition to eat as much as I could, where my Ride or Die thought to bring a large cooler.
Culinary halls may be all the rage (even though the concept is old-old-school), but Easton Public Market is not a loosely wrought trend. It's smart (the cooking demos arm you with ideas so you don't get home and stare blankly at all that delicious food), conscientious (it's grassroots, but it's designed to be self-sustaining, and the vendors are all local) and on point (the diversity rivals that of any urban hall). It's also overwhelming. With all those aromas competing for your attention, it's very easy to walk in and fill up on the first thing that catches your eye. But a little poise will carry you far. So here's a field guide that'll ensure you hit the most appetizing spots with a little room to spare.
Begin at Mister Lee's Noodles (1) for kick-ass, authentic ramen. The dishes don't lend themselves to sharing, but you won't want anyone else hanging their heads over your bowl anyway. The ingredients are local and the noodles are made by Sun Noodle Co., which supplies revered ramen houses in Manhattan and Brooklyn. If you're the kind who appreciates the astonishing amount of labor and the time-honored technique that go into constructing that bowl, grab a seat at the bar.
The Kitchen proved to be a good palate cleanser. We walked in on a juicing demonstration and sipped the extracts of beet, ginger and kale while we plotted our next meal.
Welcome as that little detox was, it had to be five somewhere, so we headed to Tolino Vineyards (2) next to sample some chambourcin (which happens to be the official grape of the Lehigh Valley). It's a not-too-bold red that paired well later on with our Chocodiem (3) truffles and the live acoustic music.
(More on those truffles: Chocodiem collaborated with other Easton Public Market vendors on several varieties. I fell in love with the More-Than-Q BBQ (4) and the Fieldstone (5) Espresso truffles, both of which were unlike any truffle I've had before.)
We indulged next in the arnabit at The Taza Stop (6). It's breaded, fried, mildly spicy cauliflower served with a scratch-made garlic sauce. Think cauliflower calamari. From The Taza Stop, it's an easy walk to Youseff's and Olive with a Twist, between which you'll find deep inventories of hard-to-find spices, unusual balsamics and handcrafted soaps and body butters.
At this point, I strongly advise checking your parking meter. Time has a way of getting away from you here. That's not, however, a legitimate defense in a Northampton County court. Also: You're going to need to grab that cooler.
Now, let's get down to some shopping. Don't be afraid to ask the butchers at Dundore + Heister what's good. They're likely to turn you on to cuts you've never heard of before, but'll become your go-tos from here on out. Then, stock up on produce, Alderfer eggs and Apple Valley Creamery raw-milk cheese at Highmark Blue Shield Farmstand (7). There should still be room in the cooler, but not much, so head back to Chocodiem for macarons.
Your appetite's probably returning by now. A beer and Neapolitan-style pizza at Scratch (8) will satisfy those pangs. Scratch is the epitome of the Easton Public Market experience: comfortable and familiar, yet elevated. And don't think that a pizza joint is going to be held to any less of a standard. Nearly every ingredient comes from Apple Ridge Farm and the beer is from nearby Shawnee Craft Brewery. (The taps rotate often, so be adventurous. Even if you luck into a new favorite, which we did with the lambic, it likely won't be there your next time through anyway.)
The women manning the wood-burning oven flick pies in with a fluid motion and lunge after them without so much as a flinch. We split the Garlic 3 Ways pie, which arrived with a large, artistic swirl reminiscent of aged balsamic. Really, it's pureed black garlic and worchester sauce. The crust was beautifully charred. And the ricotta was so impossibly creamy, I'd a been happy eating it alone with a spoon.
As we wheeled our cooler toward the exit, our stomachs full to bursting, we hesitated and wondered aloud whether we maybe should try something else before we called it a day. You will, too. The market starts to feel like an amusement park for adults. Dizzy from being knocked about ride after ride, you still want to hit the rollercoaster one more time because the moment you step outside the gates, the next decision you make isn't going to be determined by your id.
Easton Public Market, 325 Northampton Street, Easton;
eastonpublicmarket.com.