The Anatomy of a Holiday Table Setting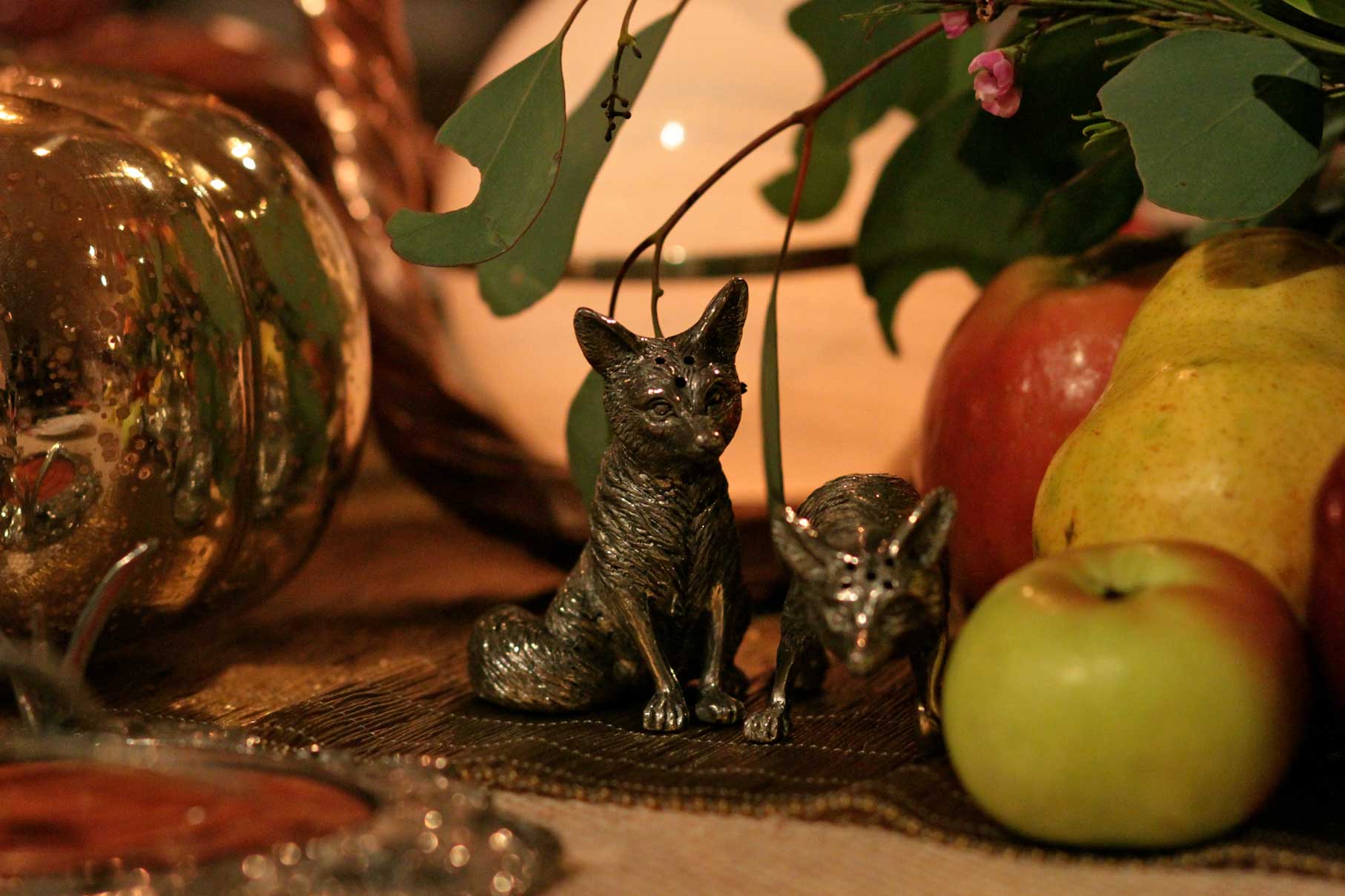 THE LIFE STYLIST
Is there such a thing as giving too much thought and value to what your guests will be glancing at while they overindulge? For The Life Stylist, that answer is a pretty firm no.
Text and photography by David J. Witchell
The holidays begin for me well before even the first Black Friday ad. At that first breath of cool air, my mind starts racing with thoughts of entertaining. Elaborate table settings at holiday dinners are kind of my thing. Ever since I was a kid, I've gone around the table and sat in each chair to make sure everything looked right from every guest's perspective.
These days, the settings are dedicated as much to the family and friends who gather around my dinner table as those who can't, including my late brother James.
When I began plotting for this year's round of dinners, my mind turned to a pair of artist-friends who share some of my obsession. Chuck Fischer is an established artist and author who recently launched a home collection comprised, in part, of fabrics, wallpaper and china. He's also created the White House Historical Association's Christmas card for four years running. Sherry Michelle is a fast-emerging visual artist who's becoming best-known for her series of pop-surrealist paintings.
The more I thought about it, the more I realized how much promise a brainstorming session with them held. So I convened a roundtable—in September.
How early do you start planning your Thanksgiving dinner table?
Sherry It's an ongoing process throughout the entire year. I always keep my eye open for little things that'd be cute. Once fall begins, I settle on a "color story" for the table and go from there.
What's the most critical detail for you?
Chuck  The china collection I designed for Lenox, Mosaico D'Italia. With its terracotta, warm browns and soft greens, it's a perfect fit. I'm also partial to low-cut flowers and candles of varying heights for the centerpiece.
Sherry  We have a long table, and the centerpieces always consist of multiple things in a row. I'm a stickler for symmetry. My mom's special twist is to slip a scratch-off lottery ticket under everyone's plates.
As much as I try to make these dinners new and unique from year to year, so much of the excitement that surrounds them stems from the nostalgia they evoke.
Chuck  I'm still motivated by the happy memories of my grandmother's kitchen and the wonderful scents of the turkey roasting and the apples sautéing on the stove.
Do you leave your Thanksgiving setting in place and adapt it for Christmas?
Chuck  The day after, I put everything away except the flowers because I'm so eager to start decorating for Christmas. My tree's usually up by that Saturday.
Sherry  That table serves too many functions to keep the setting in place. It's where I work on my smaller commissions. And my son does his homework there. So nothing lasts past Thanksgiving night.
I find that picking a single color that lends itself to Thanksgiving and Christmas makes the transition from setting to setting a little easier. For Thanksgiving, I'll play the bright oranges, yellows and coppers off of different-sized, red, hand-blown, glass-ball tea lights. Come Christmas, the tea lights will stay while the rest of the palette shifts to greens and white. Then for New Year's Eve, I'll start fresh and pair clear glass with silver and a hint of gold.
Easy as it is to lose myself in this stuff, it's worth remembering that it's the people at the table who create the memories, not the settings—even though they're arranged really artfully.
David J. Witchell is the co-owner of David J. Witchell Salon & Spa, in Newtown and Lahaska, and The Boutiques at 25 South, in Newtown.