The Next Big Thing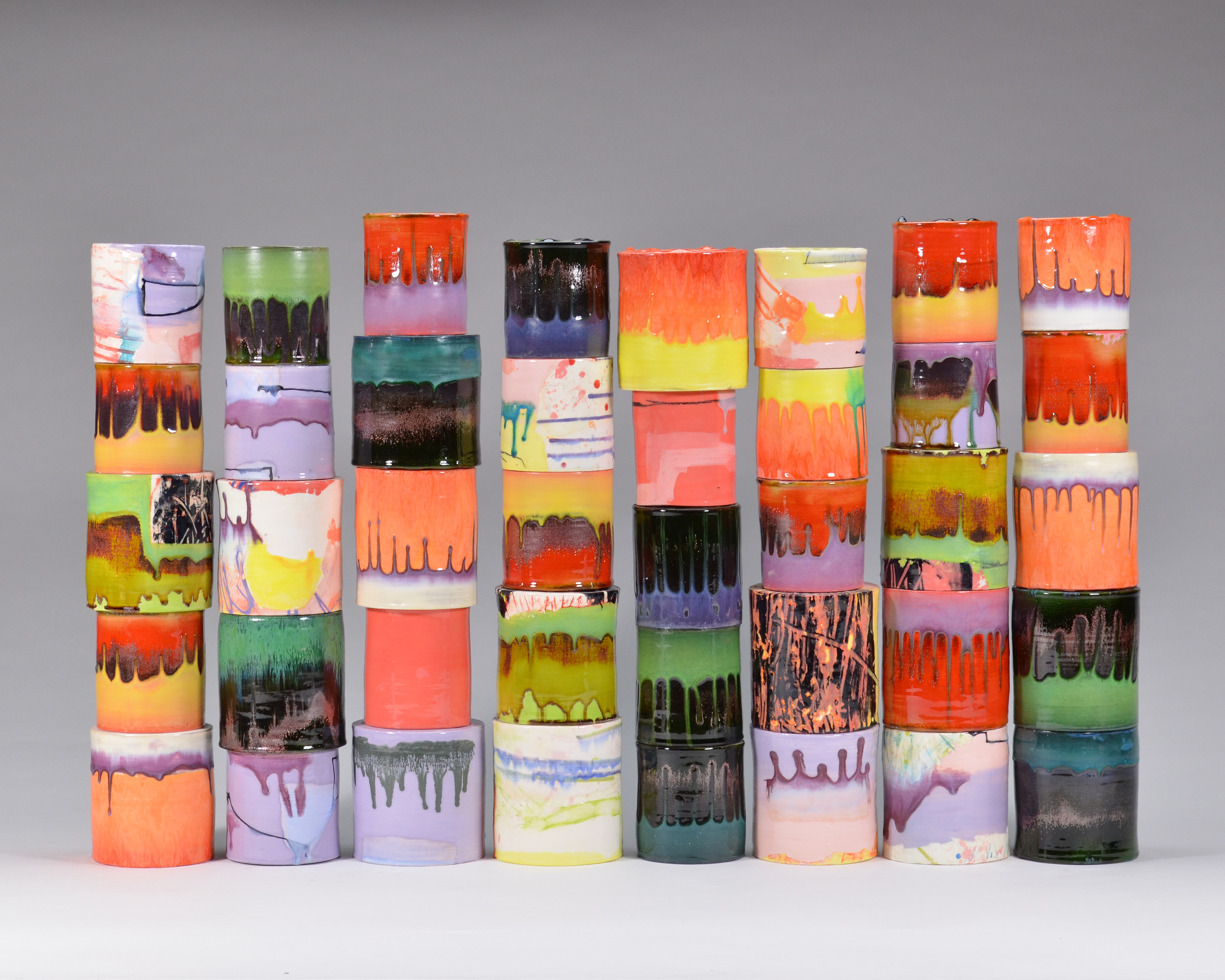 FORECAST
Trend-spotting for the home and the dinner table.
The present has a hard time holding our attention anymore. We live in a click-and-swipe culture. If you don't like what you see, move on to the next page. There's a price to pay for that, of course: never truly appreciating what we have. But the challenge to stay on top—and, for the most ambitious among us, ahead—of it all tends to run right over those concerns. Because we're in the business of stoking that very fire, we asked around to find out what we'll be pining for next. Here's what we heard back.
"Ceramics are becoming more accessible. Lauren Mabry, her pieces, for being fine artwork, are not ridiculously expensive. And they're beautiful. She really thinks of her ceramics as paintings. Roberto Lugo tells the story of his life through his ceramics. They're functional pieces—teapots, jars—but they're fine artwork. Edgewood Made is very simplistic, functional, but also high design."  Rachel Zimmerman
"Small spaces that live large. People are obsessed with this concept lately. Everyone wants to streamline, from empty nesters to student loan-burdened millennials, in no small part because efficiency no longer means cramped. More thoughtful designs, like floor-to-ceiling windows and vaulted ceilings painted white, can make a space feel much larger than it is." Lisa Furey
"We're seeing a desire to create a sense of place through sustainable landscapes. We're always considering the existing framework of a site, public or private, so that we can incorporate the natural elements as organically as possible. And we're collaborating with local fabricators and artisans. It's just as important to us that the fiber of the community be represented in our designs."  David Fierabend
"We're selling oil paintings that are painted on reclaimed metal. They range in size from four feet by five feet to six by eight. The more oversized, the faster they go. Same for another collection of simple phrases, like "I Love Us," painted on five foot-tall canvases. The more white space, the more versatile they are." Tracey and Rod Berkowitz
"There's now so much access to the digital world that people are becoming desensitized and the focus is shifting to creating what's not readily available on the Internet. I've been featuring a lot of bespoke furniture in my designs. It's specific to someone and it's an instant heirloom." Michele Plachter
"My weakness is vintage ephemera and really unique collectibles. In such a digitally driven world, I love incorporating maps, globes, antique books, prints, photographs and postcards into my home. They're so tangible. And they speak of another time completely. I love to imagine the stories behind them. Having these things in my home brings a warmth that you just don't get from an imported knickknack. My new favorite resource for such things is the N3rd Collective, in Old City, which is comprised of Hoof & Antler, freshvintage and Scout Salvage & Vintage Rescue, all longtime Clover vendors."   Janet Long
"More artists are experimenting with side collections, taking the skills that they have and creating a business. You're still buying something that's fine art as long as it's treated in a way and editioned in a way that it's still considered fine art, but it may not be at the same price point." Rachel Zimmerman
"Pinot noir has been popular for a while now—since Sideways, at least—but lately I've struggled to keep it in stock. The New York Times featured Oregon pinot back in early January, which seemed to trigger a renewed interest in all regions." Adam Junkins
"Materials are changing a lot. Lyn Godley, for example, is using fiber optics. They're photographs that are printed and then hand-colored, and then they're embedded with fiber optics. So the light is really subtle, and it adds dimensionality to the piece." Rachel Zimmerman
"The craft beer crowd has been pushing for higher alcohol content-brews for the last few years, but the trend seems to be reversing. Interest is gaining by the week in the more easy-drinking 'session beers.' They're lower in alcohol but every bit as flavorful, if not more so, than the stronger beers." Adam Junkins
"We're drawn, right now, to industrial pieces from England, France and Belgium as much for the quality as their look. In particular, we can't keep 'crank tables' in the store. (They're tables with industrial bases and manually-adjustable table heights.) For good reason; they're great looking and crazy-versatile. We've also been bringing in a lot more unusual upholstered pieces as of late—midcentury with a bit of a twist. We have an amazing wing/egg chair in the store that's half leather, half quilted linen. And, oversized, dramatic lighting—imagine a huge glass chandelier over a crank table." Tracey and Rod Berkowitz
"Lately, we've been doing all kinds of fermentation and preserving. We've been routinely making crème fraîche, kimchi and yogurt for sometime now. But we began playing with those concepts in different ways that fall well outside the norm, like fruit kimchi, which could offer an entirely different way to approach the condiment, potentially as a dessert. We're also tinkering with using fermentation and yeasts as flavoring components. Curing has become a standard for many things here. Lardo, bacon, venison, egg yolks and various cabbages and fruits are curing at any given time. We've always loved making cured egg yolks, which have an amazing, cheese-like consistency. But now we're looking into how we can safely and usefully ferment them over a longer period of time." Andrew Kochan
"The ceiling has officially come off the craft cocktail movement. There are so many resources available anymore, between books and sites, that almost anything is possible. Barrel-aged coffee-pecan bitters, you think, would really elevate your go-to whiskey cocktail. Chances are, someone else had the same thought, or one close enough to it. Hop online, and within a few clicks you'll find a barrel and a recipe." Adam Junkins
"There's a blending of the science and art worlds. A lot of jewelry now is 3D-casted, and I think that's benefitted both the artist and the collector. It allows someone like Doug Bucci to do more pieces at a time because there's not as much handwork involved, which, in turn, lowers the price." Rachel Zimmerman
"Moroccan pillows and throws with lots of interesting patterns and textures can create a beautiful juxtaposition with simple accessories." Tracey and Rod Berkowitz
[divider]Our Experts[/divider]
Rachel Zimmerman is the founder and director of InLiquid Art & Design, a nonprofit hub for close to 300 visual artists in and around Philly. Come June, it'll host the wildly popular Art for the Cash Poor sale, where budding collectors can stock up on pieces priced under 200 bucks.
David Fierabend is the owner and lead landscape architect with the Hopewell, New Jersey-based Groundswell Design Group, which has been busy (a severe understatement) greening up all corners of the city, between the Spruce Street Harbor Park, beer gardens in Center City and the forthcoming Pearl Street art initiative.
Lisa Furey is the owner and designer of Barefoot Interiors, in Bala Cynwyd. She was featured last year by HGTV as part of its "Fresh Faces of Design" portfolio in recognition of a 690-square foot, farmhouse-style cottage she designed in South Carolina's Low Country.
Michele Plachter is the owner and designer of Michele Plachter Design, in Center City. She specializes in modernizing residential interiors. Her influence reaches from Washington Square to Villanova, Mount Airy to Newtown Square.
Adam Junkins is our resident mixologist. He's also a partner and the sommelier at Sovana Bistro in Kennett Square.
Andrew Kochan is a co-owner and -executive chef of University City's Marigold Kitchen, which consistently proves itself to be one of the most forward-thinking (and secretive) kitchens around. It currently holds down the 14-spot in Philadelphia magazine's compilation of the 50 best restaurants in the city.
Janet Long is the founder and director of The Clover Market, which has become the launching pad for every indie home goods and accessories label across the region. She's so beloved that even after the designers establish themselves, they continue to show at Clover.
Tracey and Rod Berkowitz are the owners (and scavengers) of the always-inventive vintage home goods store zinc home + garden, in Lambertville, NJ. They have an uncanny knack for reimagining decades-old industrial fixtures as the touchstones of a modern home.
Photo: Composition of enclosed cylinders," 2015, by Lauren Mabry. Photo courtesy of Lauren Mabry