Hauntings for the Timid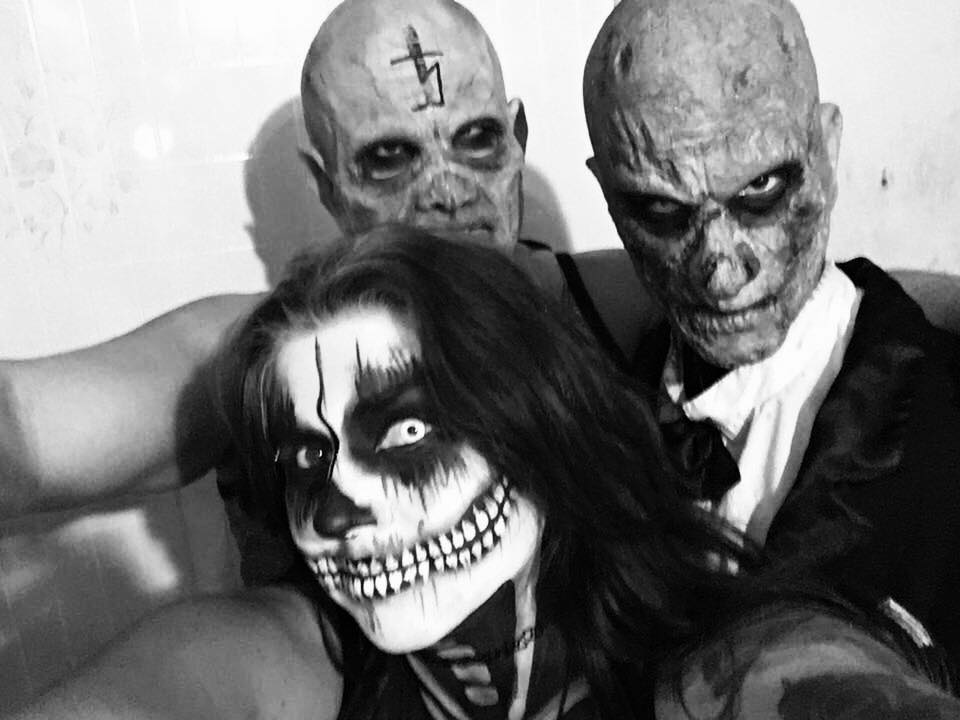 FIELD GUIDE
You like a good scare, but you'd prefer not to wet your pants. Follow us.
By Christine Olley
Halloween, like salsa, is an occasion that's served at various intensities. Some of us may kick back with The Wizard of Oz and then call it a night. Black-and-white if we're feeling brave (or buzzed), Technicolor if we're alone and especially paranoid, with all those trick-or-treaters roaming around. Others may opt for a haunted hayride. Just enough of a fright to cause a spike or two of adrenaline, but never too threatening. And then there are those whose every action over the coming weeks suggests that Halloween is, in fact, the dawning of the end of times.
Our compilation of some of the coolest Halloween attractions now playing favors the mild-to-moderate side of the palate. We figured if you were seeking something hot, you weren't going to refer to a magazine called Home + Table. Still, there are ample reasons to feel afraid. Just think more along the lines of goosebumps than night terrors.
Nassau Inn | Princeton, New Jersey
If you tend to weather your hauntings better on a full stomach, the Nassau Inn, which sits across from Princeton University, in charming Palmer Square, is offering private dinners for groups of 20 or more chased by a tour of the campus's most notoriously haunted nooks. ($75 per person.) You'll be armed with EMF meters, dousing rods and night-vision flashlights and fed lots of graphic stories for dessert.
The House in the Hollow | Newtown
If not for Halloween, we'd likely never realize that we're surrounded by so many turn-of-the-century asylums and orphanages. And thanks to whichever reality TV-ghost hunter you favor, we're all now well aware of the horrific treatment that played out within their walls. So what we have here at Malfate Manor, a.k.a. The House in the Hollow, is the perfect storm: Our own ridiculous preconceptions colliding, head-on, with lots of dark corners and costumed teenagers jumping out from them.
Waldorf Estate of Fear | Leighton
Imagine a haunted house where you and your friends are the attraction. That's the idea behind Waldorf's newest scene, the Zombie Escape Room. You'll be offered refuge from the encroaching apocalypse and then given a half-hour to figure out the clues that'll lead to the exit. Think "The Walking Dead," but without the armfuls of guns. If there are enough of you—10 are admitted per turn—make a game of it. Slowest to exit buys dinner. Then align with your Type A friends.
Temple of Terror | Pottstown
The legend has it that Damon DeMonio returned home after fighting in the Civil War only to discover that his new wife was, um, nurturing an army of her own. He lost his head. The result was not pretty. Skip ahead 150 years: An actual freemasons lodge sits atop the plot where DeMonio's home once stood. Strange things, reportedly, happen there, like freemasonry. Also: a three-story haunted house. But, really, freemasonry is plenty creepy enough.
Costume Dash 5K/10K | Philadelphia
When you're moaning your way up a small hill, barely maintaining a walking pace, do you ever think, What could make this jog even better? A bulky, awkward-fitting costume? Yes! Then the Costume Dash is just the opportunity you've been looking for to further sabotage your fitness. And if that wasn't already a weird enough site, there's a pub crawl afterward. Nothing says, "You're a man now," to a 10-year-old like forcing him to witness Iron Man and his super friends stumble out of a bar in the middle of the afternoon.
PAFA After Dark | Philadelphia
The Pennsylvania Academy of the Fine Arts is hosting a "Stranger Things"-themed party (Will!) October 19, from 5 p.m. to 9 p.m., (free with museum admission; registration required) complete with pumpkin decorating (resistance is futile) and tarot card readings (find out when you're going to die through a party game!). There's also going to be ghost tours of the galleries, including one of Fernando Orellana's ghost machines. It's a site-specific installation where Orellana's configured four robotic machines through which he's attempting to interact with the ghost of Thomas Eakins.
Photos courtesy (from the top) Waldorf Estate of Fear; Nassau Inn; Waldorf Estate of Fear; Costume Dash