The West Closure Complex Protects 3 Parishes In New Orleans From Flooding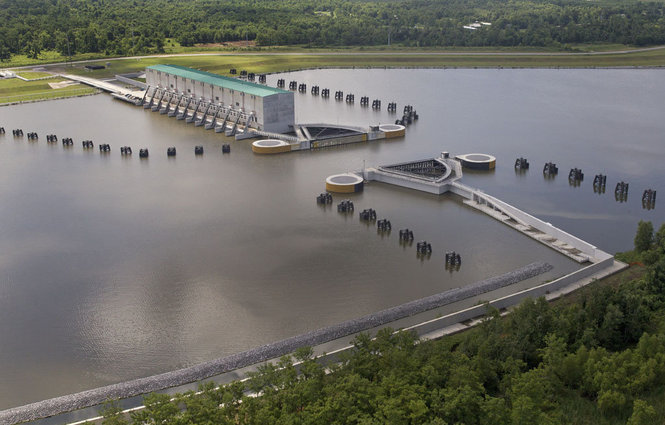 West Closure Complex… Humble Name, Huge Expectations
After Hurricane Katrina ravaged New Orleans in 2005, the U.S. Army Corps of Engineers was tasked with helping the State of Louisiana come up with a solution to control flooding in this vulnerable, low-lying area.
Part of their solution has an appropriately military-esque name… The Gulf Intercoastal Waterway (GIWW) – West Closure Complex and it's a $1.1 billion engineering marvel consisting of earthen levees, floodwalls & other water control structures. It features a navigable, 225' wide floodgate similar to what one would find protecting London from flooding on the River Thames. However, what makes the West Closure Complex unique is its mammoth pumping station. Powered by 11 Caterpillar diesel engines producing 5444 hp each, this facility is capable of filling an Olympic-sized swimming pool in just three seconds! This allows for the rapid removal of floodwaters from Orleans, Jefferson and Plaquemines parishes along the west bank of the Mississippi River.
The Coalition for Responsible Equitable Economic Development (CREED LA) proudly supports environmentally-responsible construction projects throughout Los Angeles that not only have a positive impact on the local community, but support LA's working families as well.
About Author: CREED LA fights to ensure that developers pay fair wages to all the hard working construction professionals throughout the industry while simultaneously providing them with quality health care, continued training, and trustworthy retirement plans. To learn more about how our non-profit organization supports those building a better, greener world for us all, contact CREED LA at (877) 810-7473.