Made with Love (and Some Serious Skill)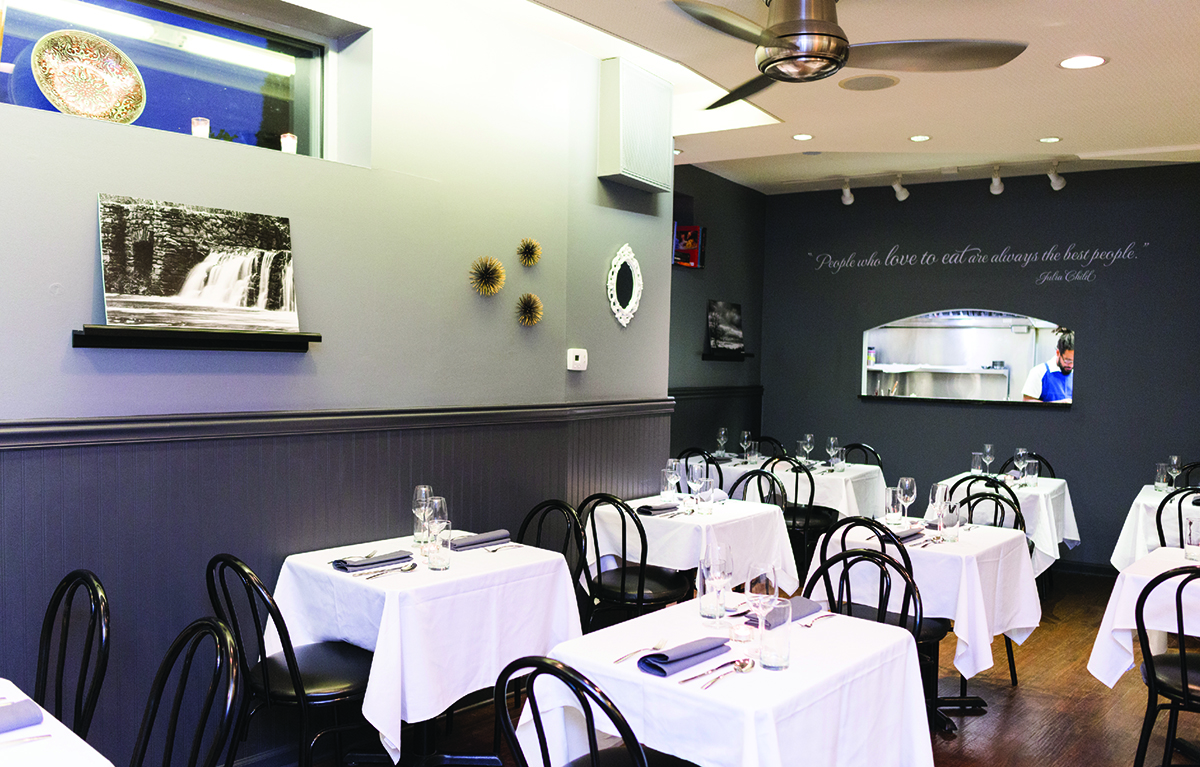 DINING OUT

Tara Buzan and Alex Hardy are hopelessly in love and they want the Main Line to know it. There won't be any PDAs, don't worry. Just lots of impossibly good eating.
By April Lisante • Photography by Matthew J. Rhein

They met by chance, a year ago, two chefs with everything and nothing in common. Alex Hardy is a tattooed culinary renegade, honed for more than a decade in Philadelphia's greatest kitchens. Tara Buzan is a Main Line native whose  passion for food and family inspire her home-cooked, catered meals. When they met, both had been on the local restaurant scene for years, having never crossed paths.
"He made me Chilean sea bass for our first date," Buzan says. "It was the first time anyone had ever cooked for me."
Last month, Buzan and Hardy unveiled At the Table BYOB, their first joint venture. It's a 20-seat, upscale-American bistro in Wayne, just a stone's throw from the Wayne Hotel on Louella Court. They want it to be a celebration of their love and a tribute to the passion they share for food.
After graduating from the University of Massachusetts with a degree in hospitality, Buzan began her food career in 2001 with a small catering company called To the Table Catering, delivering meals to Main Line homes. As one of three children, she says, "I grew up in an Italian family, and the idea of not sitting down to dinner with family was foreign to me."
The catering business, featuring her soups, salads and homemade comfort foods, quickly burgeoned. After operating for six years from a storefront in Eagle Village in Wayne, she had a son (now six) and became a private, in-home chef for Main Line families.
Hardy, who graduated from Johnson and Wales at 21, was thrust into the frenzied Philadelphia restaurant culture and loved it. Working for a who's who of chefs, he trained with Peter Gilmore, Patrick and Terence Feury, Georges Perrier and Daniel Stern, the Le Bec Fin prodigy who earned Perrier's Michelin Five Star rating. Hardy learned to approach food with a scientific reverence. And tweezers.
"People always say, 'Why do you use a tweezer to place microgreens?' " says Hardy, who most recently applied his classical French training as sous-chef at the new Autograph Brasserie in Wayne. "That's how I see the food. I'm the type of guy where, even if it comes out great, I say it could have been better."
Buzan and Hardy fell in love at first sight, and quickly began to discuss their ultimate dream, an intimate BYOB where fresh, local flavors and Hardy's creativity could shine. Last July, they purchased the former French café Creperie Bechamel at the corner of Louella Court near Lancaster Avenue, and the plan came to life.
"I originally was thinking of turning this into a lunch café, but now that he is the chef, I am able to do what I truly wanted to do," says Buzan, who now lives with Hardy. "I can do now what I wouldn't have the capability to do without him."
The white-linen dining room evokes a date-night—or, more likely, engagement-night—experience. Its postage-stamp kitchen promises plates constructed with careful attention, relying on monthly menu changes. Hardy's debut menu features appetizers ranging from $16 to $26, and entrées from $31 to $42. The appetizers include potato bisque with parmesan and truffle infusion ($16) and foie gras with blackberry purée and asparagus ($26). Among the entrées: Wagyu beef tenderloin with charred white onion, carrot and peas ($42) and Tasmanian Sea Trout with hen egg purée (Tara's favorite) ($35). A special tasting menu runs from $65 for five courses to $95 for eight.
Buzan will manage the front of the house, along with private parties and the catering, while Hardy will man the kitchen nightly. They plan to shave truffles tableside when dishes call for it, and aren't averse to switching up ingredients daily.
At the Table will likely see overflow from the Wayne Hotel's Paramour (where entrees range from $27 to $42). The aim is to evolve into a special-occasion and "luxurious-dining" destination.
"Our goal is that every night, we have our chefs have the mentality that we are going for the next Michelin Five Star," says Hardy, who is hoping they can make this a family venture.
"I feel like if you are a family, and you stick it out together, you can do anything. "
At the Table, 11 Louella Court, Wayne; 610-964-9700.
Save
Save