Back in Black (Tie)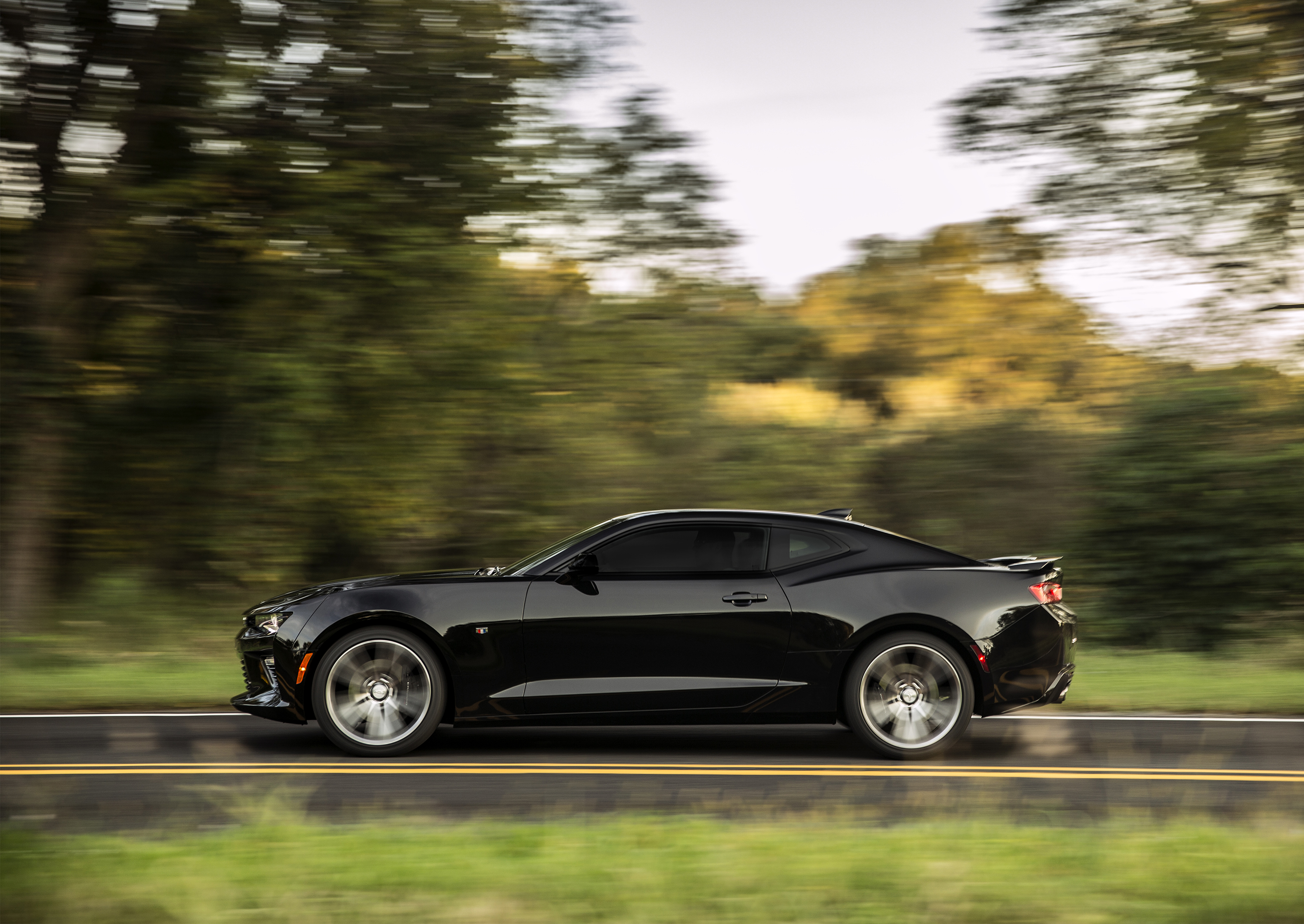 The resurgence of the American muscle car is a bit deceiving. Yeah, they're back and stronger than ever. But they've also matured into sophisticated adults.
By George Polgar
That low roar you hear behind you at most intersections these days, that's the second coming of the American muscle car. The news of Detroit's demise has, apparently, been greatly exaggerated.
The Chevrolet Corvette is the best value in the pack at $55,400. Between its angular body, the racer-like vents and futuristic headlights, the Corvette seems to borrow more from the sleek Italian supercars than its chunky American brethren. And with its new super-lightweight aluminum architecture, the Z51 handling package and the life-affirming 455-horespower V8 (bumped up five horses with the auto-manual transmission), it could hold its own with either club.
Unless you make your income from illegal street racing, the 650-horsepower Z06 edition ($83,400) is far more car than you'll ever need. But need and want are two very different worlds, so test-drive the Z06, at least. Otherwise, it'll haunt you.
Chevy's all in on this retro movement. It gave the Camaro a sleek makeover, which, coincidence or not, now looks like a flexed bicep. Practically speaking, the car's shorter, lengthwise and height-wise, and narrower, which results in a significant weight reduction. That matters because none of it came off the engine. The SS Performance model (Camaro's fully-loaded package) offers 455 horsepower in the low $40,000 range.
The Ford Mustang was redesigned, too, in honor of its 50th anniversary last year. In another nod to its rich heritage, Ford reintroduced hood vent-integrated turn signals in the 2016 GT. Under that hood sits a 5.0 liter 435-horsepower V8. Couple that with a price just north of $30,000 and you have the top-selling muscle coupe.
Demand for the 707-horsepower Hellcat edition Charger and Challenger ($63,000) was so instantaneous and overwhelming that Fiat Chrysler Automotive was forced to put a halt on orders so that it could catch up. (Keep that 707 horsepower in mind the next time you contemplate outrunning a cop.) The standard models are less than half as strong (305 horsepower), but they're also less than half the price. And, last we heard, they're in stock.
The Dodge Viper ACR doesn't have the legacy to tread on that the aforementioned do, but we'd be remiss if we ignored its 8.4-liter, 645-horsepower V10. The sticker shock ($118,795, tricked out) narrows the field, and the divisive figure trims its potential suitors even further. But if an adrenaline rush is what you're after, the Viper was made for you.
Aside from the names and their aggressive ambitions, none of these cars share much in common with their grandfathers. They are refined verging on sophisticated. But, then, with muscle cars, it was never so much about what they are as what they do, and these still very much do that.
George Polgar is a Philly-based auto journalist and an on-air commentator for CBS TV and KYW News Radio.
Photo credits: Camaro and Corvette, courtesy Chevrolet; Charger and Viper, courtesy Fiat Chrysler Automobiles; Mustang, courtesy Ford.
[divider]What exactly does "winterizing" my car mean?[/divider]
First, have a friend stand outside your car while you test all the lights and signals. While you're in there, check the heater and the defroster, too. Then, make sure your tire pressure is right and the tread is sufficient. If you want to go beyond the easy-to-reach stuff, ask a mechanic to look it over.
Scott Jacobs | Motorcar Makeovers | Blue Bell